Tesla's New Electric Semi Will Be "Very Bad," Says Electric Truck Rival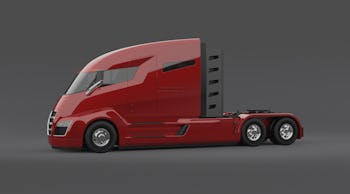 Nikola Motors
Elon Musk may believe the Tesla Semi is going to electrify trucking, but not everyone is convinced — including one of Musk's biggest rivals in the electric trucking game.
"Tesla's truck will do good for the industry, very bad for Tesla's balance sheet and good for Nikola," Trevor Milton, CEO of hybrid truck company Nikola Motors, tells Inverse. "We are happy either way."
Milton argues his company's Nikola One hydrogen-powered truck is a more attractive prospect than Tesla's vehicle. Set to be unveiled Thursday, the Tesla Semi is expected to use an all-electric design.
The problem, as Milton sees it, is that Tesla's plan to use batteries could prove a tough sell to the trucking industry. He expects the company to use high-capacity stationary batteries that offer 3.3 amp cycles and a total lifespan of 5,000 recharges, compared to the company's regular car batteries that have a five amp cycle and only 1,000 charge cycles. These alternative batteries are 30 percent less energy dense, which means they will prove larger and heavier than the ones found in the cars where Tesla made its name.
There's also the question of range. Trucks need to travel much farther than regular cars, and it's going to pose a new challenge for Tesla, which until now has only sold consumer-grade electric vehicles. A report from Reuters claimed the vehicle will offer a range of between 200 and 300 miles, well below conventional trucks that can travel up to 1,000 miles per tank of fuel.
Nikola — which, yes, uses the other half of Nikola Tesla as its namesake — plans to launch its $375,000 truck sometime in 2019. The company has said the truck will use hydrogen fuel-powered motors that can travel for over 750 miles between each refill, though this and other claims have yet to be independently tested. The fueling itself is expected to only take around 15 minutes. Nikola says it plans to expand hydrogen refueling points across the United States next year.
We don't know how long the Tesla Semi will take to charge, but a 90kWh Tesla Model S takes around 30 minutes to reach 80 percent capacity when charged from a 120-kilowatt supercharging station. It seems like Nikola is confident about its marketplace prospects, but Milton welcomes the newcomer.
"I think Tesla is going to help promote electrification of trucking, which Nikola Motor Company pioneered," Milton says.
However, Musk has said that expectations for the Tesla Semi are too low:
The tension is rising to see whether Tesla can pull it off. The company is expected to unveil the semi truck at 8 p.m. Pacific on Thursday night at the Tesla Design Studio in Hawthorne, California, southwest of Los Angeles.
InsureMyTesla could change the auto insurance industry forever. Check out this video to find out more.