Japanese Snacks You Can Buy on Amazon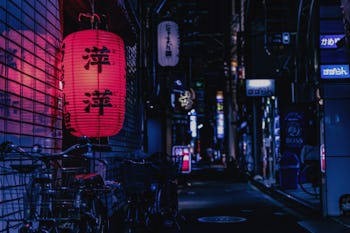 Unsplash / Jase Bloor
Go to Tokyo, and your taste bugs will be assaulted by the strange and unusual. The Japanese palate is nothing like the American palate, and it is an awesome, mind-blowing experience.
The ingredients are different. The sensibility is different. And the texture is different. It is a blast to explore and to find flavors that are delicious and—as they often say on the sushi menus here in America—"challenging."
Much of it never leaves Japan, and you will have to go there to experience it. But some of it travels well and can be purchases on Amazon.
Here are six crazy-good snack from Japan that you can try without the overnight flight.
These tiny cookies look like hamburgers. But they are actually a delicious combination of sesame and chocolate. Are the Japanese mocking the American obsession with hamburgers or do they love them as much as we do? Does it really matter? They have taken the idea to a whole new level with these nutty, chocolaty, sesame wrapped mini-burgers. They are also cute. So if you are putting together a plate of snacks and want something adorable on there, go for this.
I find it very upsetting that this flavor of Oreo is only available in Asia. It would redeem the boring, flavorless-filling brand of Oreo that seems to be our only option in the U.S. Matcha Green Tea Ice Cream flavor between two crispy chocolate cookies? Be still my heart!
You can get them shipped in, of course. But it would be great if they were available in grocery stores here. Or maybe that would be dangerous?
Not sure of the green tea? Try this assortment of Oreo flavors that is a collection of flavors not available here.
Ah, mochi! IF you have never tried it, then it is time that you did. This is the food that delivers when it comes to strange texture, flavor combination. It might take you a minute. But it is sure to be a love that will have you chasing the next flavor.
This also delivers on strangeness of ingredients. Because mochi is made from glutinous rice and bean paste, both staples of Japanese foods but rarely used in America.
This is an assortment of flavors. Have fun figuring out what those flavors are!
This is basically a package of delicious Asian flavors that you must try. Senbei is a crispy rice cracker that is the perfect vehicle for flavorings. And this is a collection of the odd, when it comes to those. Is that blue cheese? Curry? Corn soup? Seaweed?
Have fun. Put these out on a plate with no explanation and test your guests' palates. See what flavors people fight over and which that can't get out of their mouths fast enough. This is gonna be so much fun!
The only ingredient listed here is corn. So who knows what's in this package of "junk food." This is a very popular snack, though. And the flavors are intriguing. So intriguing, we can't resist giving these a go.
Teriyaki burger? Yakitori? Shrimp and mayonnaise? Salad? Tonkatsu Sauce? Beef tongue? You get the picture. You are no longer in Kansas, my little friend. Embrace the strange.
Want something you can throw in your bag and take for lunch? Still trying to explore the wild tastes of Tokyo? Here are some spicy chicken Yakisoba noodle packs. Just add water, pop it in the microwave and it's lunch. It's also a spicy Japanese lunch that offers a flavor you won't find at the Subway down the street. And you get enough of them (8) to last quite a while.