Inverse Daily: Marijuana and sperm have a complicated relationship
The jury is out on how marijuana affects sperm quality, but finally we know why there's a strong connection between marijuana and sperm.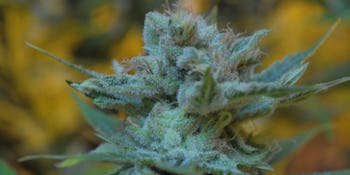 It's Friday. Soak your brain in this final Inverse Daily before the weekend. I'm Nick Lucchesi, executive editor at Inverse.
Before we get started, a quick shout-out to the 1,700 or so people who commented on our story on Reddit about carbon taxes. Love to discuss economics with my fellow nerds.
Email me with suggestions on how to make this newsletter even better: nick@inverse.com. Read on to learn about the latest in planetary defense, how marijuana affects the reproductive system count, and what our world would be like without birds.
Last call: Our Women of Science Tarot Deck giveaway is open for the rest of this week. Enter to win here.
This article is an adapted version of the Inverse Daily newsletter. Subscribe for free and earn rewards for reading every day.
INVERSE QUOTE OF THE DAY
"It can't just all be butchered pigs and slaughtered cows because people just don't want to see that."
— Laura Thomas-Walters, a behavioral scientist
Do what feels natural
Nature documentaries are one of the few things most people can agree on. Who doesn't love to bliss out to an episode of Planet Earth or feel at one with a pride of lions skulking across the African savanna? They show us a world far from traffic jams, subway cars, and suburban cul-de-sacs. There's just one problem.
The future of nature docs needs to do a better job of focusing on the causes of climate change. Air pollution creates a hotter planet that changes the ecosystem. But nature docs don't show this enough, a new analysis has found. What nature documentaries have is a starving polar bear problem.
Inverse writer Ali Pattillo puts it this way: "New research highlights the need to show humans' impact on nature, not just the wild, wonderful landscapes we all love to watch." Read more.
The more you know:
That's just, like, your opinion, man
The jury is out on how marijuana affects sperm quality, but finally we know why there's a strong connection between marijuana and sperm. The body's sperm-making machinery is designed to recognize the active chemicals in marijuana, called cannabinoids.
Emma Betuel reports on a team of scientists in Copenhagen who found that there are signs of important endocannabinoids in testicular tissue in a small sample of 15 men, and also found that there were signs of receptors and enzymes that break down those chemicals. This shows that the body's sperm-generation hardware might use endocannabinoids in some way (though we don't know how yet), and suggests that when the body gets flooded with exogenous cannabinoids, it might affect how that system functions. Read more.
The more you know:
Birds and the breeze
We're losing (lots of) biodiversity worldwide, and birds are no exception. Over the past five decades, one in four birds in North America have disappeared, researchers report in a new study.
Since birds are an indicator of the overall health of ecosystems, their decline is important, and points to the need for humans to take action to curb the loss of biodiversity.
"By studying birds, we can understand how the natural world has changed over time and is continuing to change," lead author Ken Rosenberg, Ph.D., tells Inverse writer Nina Pullano.
There's some good news for bird lovers, though. Read more.
The more you know:
Sunday Scaries
Beat the "Sunday Scaries" with a weekly newsletter that mixes soothing science and relatable advice to get your mind & body ready for the week ahead.
Shoot the moon
NASA and the ESA are teaming up to protect Earth from possible future asteroid threats, and their first target is an adorable, mini-moon that they want to push out of the way.
Didymos B, also known as Didymoon, is the smaller of a binary asteroid system that is considered to be a near-Earth object. Although the pair of flying rocks pose no threat to Earth as of yet, the joint Asteroid Impact and Deflection Assessment (AIDA) collaboration is crashing a spacecraft into Didymoon in order to test out an asteroid deflection technique, called kinetic impactor, should there be one headed towards Earth in the future.
Inverse writer Passant Rabie writes that the spacecraft is scheduled to crash into the unassuming Didymoon in September of 2022, followed by both space and ground observations to determine if the mini-moon was deflected from its orbit around its larger companion. Read more.
The more you know:
It's simple economics
The question around renewables is changing from "why" to "why not," as plummeting prices give fossil fuels a run for their money.
As world leaders grapple with how to reach net-zero emissions targets by 2050, the cheap cost of renewables could make the decision to switch much easier. Michael Milken, chairman of think tank Milken Institute, said on Thursday that renewables have plunged so low that it "isn't just an argument of environment; it's now just pure economics."
Milken's not wrong, writes Inverse writer Mike Brown. Since 2010, the World Economic Forum notes that benchmark prices for offshore wind have fallen by over 50 percent, onshore wind by 49 percent, and solar by 84 percent. Lithium-ion batteries that can store all this power to maintain a constant supply have dropped more than three quarters since 2012. This has led to a situation where, in 74 percent of cases in the United States, it's theoretically cheaper to build new wind and solar than to maintain existing coal plants. Similarly, in China, the cost of solar has grown competitive with grid power. Read more.
The more you know:
Meanwhile …
Inverse Loot
Subscribe to Inverse Loot and learn about these deals first.
That's it for today.
Who else is excited for The Boondocks reboot?
— Nick @ Inverse