iOS 13: why you might want to wait to download the dark mode-touting update
Apple's major software update is rolling out.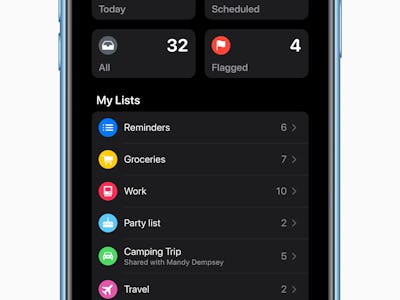 Apple
iOS 13 is here. On Thursday, Apple started rolling out its latest major update for the iPhone and iPod Touch operating system, bringing a slew of new features to one of the company's most important products. While there's a number of reasons to upgrade, the imminent launch of another update and concerns about bugs may give reason to wait.
There's a lot to love in Apple's latest software update, even in its current state. Top of the list is a new dark mode, which darkens the background of apps, notifications, and the home screen dock to make for a softer experience at night. Users can choose to switch between light and dark as the sun sets, adding to the night mode that reddens the screen to reduce blue light. The effect should be even stronger on more recent OLED-based iPhones, where the screen can switch off individual pixels.
A new messaging app brings names and photos to the conversation, similar to Facebook Messenger. Search is now better than ever, surfacing more relevant results. Memoji stickers now put your personal character creations to the test.
Beyond dark mode and messages, iOS 13 brings a number of big changes to the platform. There's a new swiping keyboard to write in words in a breeze. CarPlay, Maps and Reminders have all received makeovers. Siri should sound a bit less robotic, thanks to a neural engine-powered text-to-speech system. On the less visible side, Apple has boosted privacy with new Apple-powered sign-in options and a prompt so apps require permission to use Bluetooth. Apps should also launch up to twice as fast and Face ID should work up to 30 percent faster.
iOS 13: should I upgrade?
It's good practice to keep your iPhone updated. Beyond new features, Apple's software updates regularly boost security and fix flaws to ensure data stays safe and secure. One of the best ways to protect your iPhone's security is to download and install the latest software update.
However, Apple has taken a rather unusual step this year and announced a follow-up to iOS 13. Originally announced for September 30, Apple revised the date Thursday and brought it closer to September 24.
This has led to some commentators questioning whether it's worth even upgrading, considering iOS 13.1's imminent arrival. Apple blogger John Gruber wrote on his Daring Fireball website that 13.0 is "really buggy," going as far as to say "don't upgrade your iPhone to 13.0 — wait for 13.1."
"If you can stand to wait five days, it might be worth it to wait for iOS 13.1, the next update to the iPhone's OS that's expected to drop on September 24, and should be more reliable," Lauren Goode wrote in her story for Wired.
iOS 13: what is iOS 13.1, and how is it different from iOS 13?
On top of the previously-announced features for iOS 13, the next update is set to add even more features:
Tweaks to dynamic wallpapers.
Share your estimated time of arrival with contacts using the Maps app.
New icons and animations.
Automations in the Shortcuts app which triggers a routine by monitoring a set of predefined conditions. This feature could, for example, enable you to switch off music when you return home.
Various other tweaks.
iOS 13.1 is set to launch on September 24, 2019.
iOS 13 and iOS 13.1: how to download even with low storage space
Installing both of these updates will follow the same pathway.
To update via your iPhone:
Visit the "Settings" app.
Go to "General."
Go to "Software update."
Confirm the update. At this point, Apple may try to make space on your device for the update, like by temporarily removing apps and redownloading them when the phone restarts.
Enjoy!
If that doesn't provide enough space, there's an alternative method involving iTunes.
Plug your iPhone into your computer with a USB cable.
Open iTunes, then visit your device.
Check "Check for Updates."
Follow the on-screen instructions to download and install.
And that's it! The latter method uses your computer's storage to download the file and complete the installation, so you don't need to make any sacrifices. Of course, it might be a good time to go through your device and decide if there's anything you don't really need.