iOS 13: 5 features you'll love in Apple's free iPhone software update
The new software update makes a number of big changes.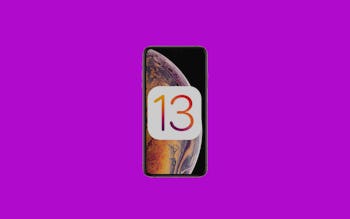 Inverse photo illutration
iOS 13, Apple's major software update for the iPhone, is here.
On Tuesday, Apple started rolling out the free update for the iPhone 6S and later (sorry, 5S and 6 users). In this year's annual major release, Apple has introduced a number of headline features that make some big quality-of-life improvements. Others are less visible, like apps that load twice as fast and Face ID that opens the device 30 percent faster.
The launch comes the day before the iPhone 11 hits shelves. Apple's latest smartphone, which starts at $699, is set to ship with the software update already installed.
Although Apple has curiously announced that another 13.1 update will launch on September 24, there's plenty to love in this initial release. Here's five reasons to make the jump.
5. Tap to undo
So simple! A three-finger tap twice on the screen undoes any typing or accidental deletes. Apple first debuted an undo feature with iPhone OS 3 in 2009, where the user would have to physically shake the device to make the prompt appear. It's 10 years later, and Apple has finally cracked a better alternative.
4. PS4 and Xbox controller support
iOS 13 brings full-blown support for wireless PlayStation 4 and Xbox One controllers. Pair the controller via Bluetooth and use it to control relevant games. No more hunting around for a specially-designed "Made for iPhone" controller that only works with Apple devices!
The feature will become all the more important when Apple Arcade launches, the $4.99 per month subscription feature that offers access to over 100 exclusive games with no in-app purchases or hidden costs. The games also run on the Apple TV, iPad and Mac, so users can transfer their progress to other machines. Game on!
3. Privacy enhancements
Firing up iOS 13 may make users realize just how many apps are using their data to their benefit. The new update requires apps to ask for permission before using Bluetooth, similar to how apps need permission to use the camera. It seems like a small change, but a number of apps may ask for permission with little discernible reason. You can now tell them you're not interested.
Among other changes, Apple is also launching a new sign-in method that uses your Apple credentials as an alternative to Facebook and Google. Users looking to drop those services may find it a relief to use a single sign-on without worrying about handing your data over to the other two firms.
2. Messaging enhancements
Apple has redesigned its messaging app to make it work more like WhatsApp and Facebook Messenger. Users can now set a name and profile picture that will appear to other users, providing a public-facing profile that adds a more personal touch to messages.
The new app also rolls out a better search function, as well as support for Memoji and Animoji sticker packs. The feature is available to devices with an Apple A9 or later, which includes the iPhone 6S and beyond. That means even if your device doesn't have the Face ID face scanner, you can still make the most of Memoji enhancements.
1. Dark mode
The big one. Dark mode, prompted as an option when you first start iOS 13, switches the piercing bright white background for darker grey and black tones. It's a welcome change, and one that really makes the device feel less straining on the eyes.
The dark mode, similar to the one that debuted on macOS last year, brings a darker shade across the operating system. That includes the app dock on the home screen, notifications when they slide through, and even supported third-party apps. Notifications used to be darker prior to iOS 10, and one of dark mode's big benefits is the ability to return to a less eye-catching design.
When paired with Night Mode, which reddens the screen during nighttime, dark mode means users will no longer feel blinded by their device at night. Eyes will feel more rested, and it no longer feels like you're pointing a flashlight at your face. The effect should be amplified for iPhones with an OLED screen (iPhone X, XS, XS Max, 11 Pro, 11 Pro Max) where the screen can switch off individual pixels for even deeper blacks.
It may seem like a small change, but iOS 13's strength lies in these welcome quality-of-life improvements.
Update 09/20 6 a.m. Eastern time: An earlier version of this story stated that iOS 13.1 will launch on September 30. It has now been updated to reflect Apple's revised release date, which the company announced Thursday.