iPhone 11 reviews: 'terrific' battery and camera, but maybe wait to upgrade
Do you need the latest iPhone?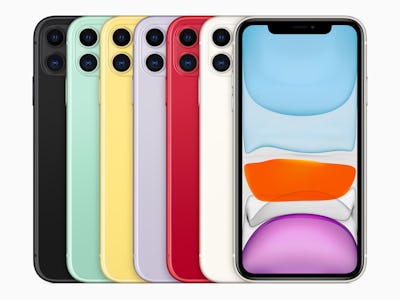 Apple
Before considering the iPhone 11, ask yourself this: do you actually need a new iPhone?
That's the question circling around Tuesday's iPhone 11 reviews ahead of its Friday launch, which praise Apple's latest smartphone for delivering an even better camera, even longer battery life and even faster performance. But gone are the days when each yearly update would bring groundbreaking new features like video recording, a front-facing camera, or nine times faster graphics performance. Phones are already pretty fast, take good pictures and tend to last most of the day.
"Here's what I ultimately suggest: You should definitely upgrade if your current device is at least five years old," Brian Chen wrote in his review for the New York Times. "But for everyone else with smartphones from 2015 or later, there is no rush to buy."
The iPhone 11 is a welcome upgrade to a phone that received high praise last year. It slots into the same place in Apple's lineup as last year's iPhone XR, the cheapest of three newly-announced devices that caters to people happy to make some compromises while still getting fast speeds and long battery life.
"This is one of the simplest reviews I've ever had to write: the iPhone 11 is the phone most people who are upgrading to a new iPhone this year should get," Nilay Patel wrote in his review for The Verge. "It's an excellent phone, with one of the best cameras I've ever seen on a smartphone and terrific battery life."
iPhone 11 review roundup: price
Particular praise went to the phone's price. At $699 for the entry-level 64GB model, the iPhone 11 undercuts its iPhone XR predecessor by $50. The gap between the more premium models has also widened, as the iPhone 11 Pro maintains the $999 price point of the iPhone XS. By comparison, the Samsung Galaxy S10 is priced at $899 and the Google Pixel 3 starts at $799.
"I still think the iPhone 11 is a very good phone, even if it's not a futuristic one," Lauren Goode wrote in her review for Wired. "Its faster processor, camera upgrade, and long-lasting battery will be enough to sway those who have been putting off buying a new phone. And the iPhone 11's price is a lot more palatable for some people than the cost of an iPhone 11 Pro or even a premium Samsung phablet."
iPhone 11 review roundup: display
As far as high-end phones go, the iPhone 11 stands out. The question is whether the iPhone 11 is a high-end phone, or something closer to a mid-range device. It has a 1,792 by 828 pixel LCD screen, measuring 6.1 inches to offer 326 pixels per inch. LCD screens can't shut off individual pixels like the OLED screens on the 11 Pro devices. Its 1,400 to one contrast ratio pales in comparison to the two million to one screen on the 11 Pro, which means it doesn't support the same impressive HDR capabilities. It's also a bit dimmer, at 625 nits versus 800 nits.
Despite all this, several reviewers stated the 11 offers a gorgeous screen that should satisfy consumers. Most consumers, after all, don't concern themselves with nits and contrast ratios.
"The screen is slightly washed out in comparison to the iPhone 11 Pro Max, for instance, with the limitations of the LCD technology in the Liquid Retina display coming to the fore," Gareth Beavis wrote in his review for TechRadar, where he also referred to the screen as "clear, bright and easy to see…it lacks the color depth and contrast ratio of the higher-spec phone, but is still perfectly serviceable for streaming Netflix or live sport, as we found in our testing."
iPhone 11 review roundup: cameras
One of the big features hitting the iPhone 11 this year is Night Mode. This software-powered feature works in a similar way to the Google Pixel, where on the latter it's been touted as a standout way of taking low-light photos without resorting to the flash. A number of reviewers claimed that the photos were not as bright as the Pixel, which isn't necessarily a bad thing as they at times result in more natural photos.
"Night mode: Sticking to photography, this will be the killer feature for many of you, and it is available on all of the 11s and 11 Pros," Edward Baig wrote in his review for USA Today.
The iPhone 11 offers dual wide and ultra-wide cameras, both offering 12 megapixels. The former has an f/1.8 aperture, while the latter has an f/2.4 aperture and a 120-degree field of view. Unlike the software-powered Portrait Mode in last year's single-camera iPhone XR, the new device can take pictures of any objects — not just people — and blur the background to make it seem more like a professional camera. But the 11 is also missing the third, telephoto lens on the 11 Pro with an f/2.0 aperture.
"Ultimately, the iPhone 11 Pros offer a better camera experience because that third telephoto sensor gives them more flexibility," Chris Velazco wrote in his review for Engagdet. "The standard iPhone 11 gets very close, though, and I don't think the average user will feel like they're missing out."
iPhone 11 review roundup: worth the upgrade?
The iPhone 11 makes a number of welcome changes, but leaves a number of small flaws likely to get fixed in future phones. It doesn't come with the faster 18-watt USB-C charger like the more expensive phones, with the five-watt charger dismissed as "garbage" by MKBHD. While it does support Wi-Fi 6 and ultra wideband connections, it doesn't offer 5G.
"For most people who are in the market for an iPhone upgrade, I'd recommend the iPhone 11," Scott Stein wrote in his review for CNet. "Or just wait. You're definitely OK with last year's phone, and I'd even stay put if you have an iPhone 8 or iPhone X. Next year's iPhones could be part of a big upgrade cycle that's likely to include 5G. And Google's new Pixel 4 phones are right around the corner."
Consumers are holding onto their phones for longer — a Kantar study showed Americans on average kept their phone for two more months between 2013 and 2016. As superfast processors offer little in the way of real-world performance benefits, it's hard to sell consumers onto the idea that they actually need to upgrade every other year.
Chen, who argued in his New York Times review that users with devices from 2015 or earlier should wait, explained that older devices can't run iOS 13. That gives a good reason to upgrade, as eventually the phone won't be able to support apps. For everyone else, a battery upgrade for around $70 could replace the ageing chemicals and give the phone a new lease of life.
Review consensus suggests that the new iPhone is a nice improvement over last year's. But in an age where the latest smartphones cost nearly $1,000, is "nice" good enough?