iPhone 11 Research Shows 5G's Best Days Are Still to Come
The way phones connect is changing.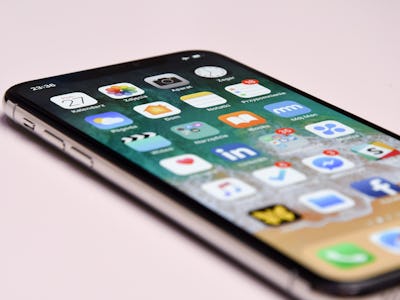 Unsplash / Przemyslaw Marczynski
5G is almost here, but based on research around Apple's next iPhone, it seems the general public doesn't know or care.
The forthcoming smartphone, popularly dubbed "iPhone 11," is expected to launch next month in three varieties with new changes like a triple-lens camera and greater water resistance. But rumors suggest that, unlike some variants of the Samsung Galaxy S10 or Moto Z3, Apple's smartphone won't offer 5G connectivity. That means buyers are going to miss out on some of the fastest speeds available.
"4G was like putting the internet in your pocket," John Godfrey, senior vice president of public policy at Samsung, tells Inverse. "5G is going to be like putting fiber in your pocket."
Research from gadget resell site Decluttr released this month suggests that the iPhone 11 skipping 5G probably won't make much of a difference to sales — but that once 5G embeds itself into public consciousness, it could become a must-have feature for consumers.
The firm surveyed 2,003 smartphone-owning Americans from August 1 to 5. While around a quarter of Apple owners plan to buy the next iPhone, around 40 percent are not sure. Once told about the rumored updates, just 18 percent said they're less interested in buying the phone, while more than half said their opinion hadn't changed.
In terms of 5G, the results are even starker. Even though 64 percent say faster speeds is key to their buying decision, just 25 percent say that owning a device with 5G is important. This is despite the fact that 5G will offer faster speeds.
Respondents also seemed unaware about Apple's offerings in terms of the new technology: 19 percent claimed the company already sold a 5G phone, while 10 percent thought the 5G iPhone would launch in 2019.
There was also confusion about what 5G actually offers. Just nine percent of those surveyed knew the difference between 5G and 5GE, the latter being AT&T's brand for a set of advanced LTE technologies that don't meet the mark for actual 5G. 26 percent claim 5G will increase phone storage space, while 16 percent say it will improve screen resolution.
With these results, it seems 5G has yet to filter firmly into the public consciousness at this relatively early stage of rollout.
5G: The Calm Before the Storm
5G, the fifth generation of cellular connectivity, is set to have a major influence on global communications. A report from Ericsson claims there were 7.9 billion mobile subscriptions in the world in the first quarter of 2019. Of that figure, 47 percent were LTE subscriptions.
LTE is one technology that falls under the umbrella of 4G. It offers much faster speeds than 3G, reaching download speeds of 19.4 Mbps on T-Mobile U.S.' network according to OpenSignal tests. In terms of latency, the amount of time it takes for one data packet to get from one point to another, AT&T won with 58.3 milliseconds. Speedtest ranks overall average internet speeds in the United States at 34.76 Mbps.
5G is expected to dramatically improve on these figures. In Deutsche Telekom tests, the company was able to reach three gigabits per second, with the potential to reach 10 gigabits in the future. Third-party tests reveal similar speeds: CNet reached over one gigabit per second testing the Samsung Galaxy S10 5G in Chicago. On the latency side, Godfry tells Inverse that response times are expected to drop to single-digit milliseconds, ideal for lightning-fast response times in gaming and the like.
5G also offers big benefits in terms of capacity and consistent user experience, supporting one million devices per square kilometer, 10 times more than 4G. It's also expected to be 100 times more energy-efficient than 4G.
But while 5G is gradually rolling out across the United States, expected to reach something akin to nationwide next year, Decluttr's research shows it's early days for the nascent technology. Consumers are somewhat confused about the benefits and it doesn't factor too much into their buying decision.
The research also shows, though, that consumers will likely appreciate the benefits on the way with 5G. Perhaps little wonder that Ericsson predicts 1.9 billion devices will use 5G by 2024, making it the fastest generational global rollout in cellular history.