Galaxy S10 5G: Price, Release Date, and Specs for Samsung's First 5G Phone
Samsung is ready for 5G, but there's one thing holding it back.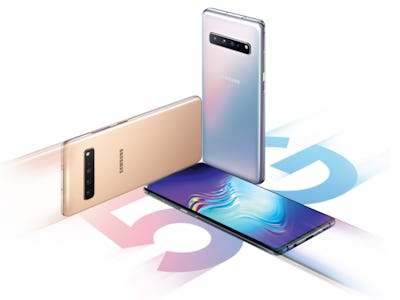 Samsung
Two of the five handsets unveiled at Samsung's February Unpacked event remained somewhat shrouded in mystery. Along with the Galaxy Fold, Samsung's first 5G-enabled variant, the S10 5G, did not receive a release date. Indeed, many of the details surrounding the S10 5G remained foggy until Monday.
Samsung recently announced that the S10 5G will initially go on sale exclusively in South Korea on April 5 in a press release. It also revealed a full roster of specs and features to expect with the phablet. But it's unclear when the device will be available in markets like the United States, and that offering may be contingent on carrier rollouts.
"We're excited to bring the Galaxy S10 5G to the U.S," a company spokesperson tells Inverse. "We will have more details to share about availability soon."
Here's everything we know ahead of what could be Samsung's first 5G phone launch in the States.
Galaxy S10 5G: Release Date
Samsung did not specify a month or even a year when consumers outside Korea should expect the S10 5G. But its statement suggests we could get a release date announcement by the end of the year.
Seeing as the company announced its release in South Korea with a press release, it's unlikely that U.S. customers will get a standalone event just for the S10 5G. But Samsung does traditionally host other events later in the year that it could use to drop some details about its upcoming 5G phone.
Last year, the Galaxy Note 9 was unveiled in August in a New York City media event. It's widely expected that the successor for the Note 9 will be launched around the same time. Samsung could use this opportunity to update consumers about the S10 5G.
Galaxy S10 5G: What's Taking So Long?
Without an established 5G network, 5G-enabled phones are as good as a car with no gas. As it stands only a handful of U.S. cities have access to any mobile 5G capabilities at all, and even those networks are limited to certain areas and neighborhoods.
Ben Arnold, the senior director of innovation and trends at the Consumer Technology Association, tells Inverse that a majority of companies have jumped the gun on hyping up consumers about 5G phones.
"When the rubber meets the road, a 5G handset is really only as good as the availability of the 5G signal that users have access to," he said. "You have to balance giving consumers a glimpse of the future, but it has to be evened out by coverage and transparency as to where it is available."
The CTA's most recent report forecasts that by 2022, 76 percent of all smartphones sold will be 5G-enabled. Many carriers estimated that they'd achieve county-wide 5G coverage by 2020, but these estimates put those ambitious goals in under a more realistic light.
It still might be a few years before a majority of smartphone users can take advance to 5G networks.
Galaxy S10 5G: Price
The S10 5G will be a step above the $999 Galaxy S10+ in terms of hardware and specs, but it won't be as flashy and experimental as the $1,980 Galaxy Fold. Samsung didn't announce an official price for Korean markets, but Korean phone carriers told Sam Mobile how much the phone would cost.
A 256GB model will cost 1.39 million won ($1,231) and a 512GB variant will go for 1.55 million won ($1,366). Prices may vary in the U.S. but these price estimates place it right in between the S10+ and the Fold, which makes sense on paper.
Galaxy S10 5G: Display
The S10 5G largest member of the S10 series, stretching the limits of what can be considered a phablet. It's 6.7-inch OLED screen will come with all the bells and whistles: Samsung's "Infinity-O" hole-punch display, as well as the curved screen edges that make it look like the screen folds over the side bezels.
Galaxy S10 5G: Cameras
The S10 5G will also come with four rear cameras and two front-facing lenses, the most cameras out of all the S10 models. This arrangement will be powered by a neural processing unit. This chip will help the phone recommend filters for better images, change depth-of-field effects after an image has already been taken, and incorporate many more editing features that were once only possible on programs like Photoshop.
Rear Cameras:
Telephoto: 12MP
Wide-angle: 12MP
Ultra-wide: 16MP
3D Depth sensor for depth of field effects and AR applications
Front Cameras
Selfie: 10MP
3D Sensor identical to the rear one.
Galaxy S10 5G: Specs
Customers should expect to find there other features aboard the S10 5G once it comes to market:
Battery: 4,500mAh with the ability to wirelessly charge other gadgets from its back panel.
Operating System: Android 9.0
Audio: AKG Stereo speakers
Processor: 7nm 64-bit Octa-core processor
No headphone jack
Samsung's first 5G-enabled phone sounds like an absolute unit. But U.S. consumers have to wait a few months before they get any updates about when it'll become available outside of Korea and, even then, it could be years before the 5G networks become widely distributed enough to make it worth your money.