The iPhone 2020, Then? Apple's Slowing iPhone Cycle Matches Changing Demand
Apple has become a new kind of company.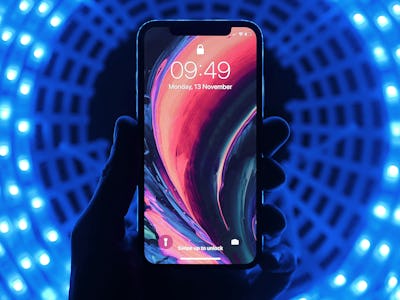 Unsplash / Youssef Sarhan
The iPhone 11, iPhone XI, or whatever name Apple names the sequel to the iPhone XS, is rumored to make a number of changes that could improve its longstanding features: A triple-camera setup, two-way wireless charging, and an even faster processor could all be in store when Apple likely debuts the next iPhone next month.
Those new features, though, may pale in comparison to what comes with the 2020 iPhone: That device could feature new screen sizes, 5G connectivity, high-end OLED screens across the range, and a laser-touting 3D camera. Apple may even finally ditch the Lightning connector and switch to USB-C, the same charger used for the MacBook and iPad Pro.
Those are the rumored features of the 2020 iPhone, and if they excite you more than rumors about this year's model, it might be down to shifting consumer habits amid a maturing smartphone market. Annual iPhone sales hit their peak four years ago, in 2015, around the same time that Apple slowed from its quick-fire pattern of introducing dramatic design changes every other year.
Today, we're holding onto phones for longer, and product upgrades are going narrower. The iPhone has shifted its release cycles to reflect this new environment.
Prior to 2015, Apple phones followed a "tick-tock" pattern, where a big redesign in one year's lineup would be followed by a smaller, internals-focused release the next year.
The original iPhone in 2007 kickstarted the product line with a metal-and-plastic back.
The iPhone 3G in 2008 improved on the original with a new, plastic-backed design. The iPhone 3GS in 2009 looked identical, but it contained a faster processor and packed the ability to record video.
The iPhone 4 in 2010 switched to a stainless steel and glass design. Steve Jobs compared it to a Leica camera, but the groundbreaking redesign was famous for causing the "antennagate" issues. The iPhone 4S in 2011 fixed this, while also adding a faster processor and retaining the same design.
The iPhone 5 changed the screen size for the first time in 2012 from 3.5 inches to 4 inches, using an elongated shape and a thinner design that echoed the iPhone 4 while taking it in a new direction. The iPhone 5S in 2013 used a similar design, but switched the home button for a fingerprint sensor.
Since 2014, Apple has been following a slower "tick-tock-tock" pattern.
The iPhone 6 that launched in 2014 introduced 4.8-inch and 5.5-inch screen sizes, with a curved design that made it easier to roll around in the hand. The iPhone 6S' headline feature was a force-sensitive screen when it launched in 2015, an invisible change that retained the same design. The iPhone 7 introduced new color options in 2016, but its waterproofing and dual-lens camera were minor cosmetic changes. Inverse recommended at the time that fans may want to skip the iPhone 7 due to a limited set of changes.
When the iPhone X launched in 2017, it was the first time in three years that Apple had changed the design of the phone in a big way. It ditched the home button and fingerprint scanner in favor of the "notch," the first time ever that an iPhone did not use a home button. The iPhone XS in 2018 looked identical, but the iPhone XR and XS Max added new screen sizes to the mix.
Apple's slowing cycle can be attributed to a number of factors. In part, phones are already pretty good. While the iPhone 3GS introduced video recording, and the 4 introduced a front-facing camera and flash, there's been little lately in each annual upgrade that sparks the same desire to upgrade. A triple-lens camera is cool, but will it really bring the average consumer much benefit?
A Kantar study in 2017 found the average American consumer held onto their phone for 20.5 months in 2013 before upgrading, but by 2016 this had extended to 22.7 months, just shy of two years. This trend was also observed in China and five European Union countries.
After a high of 231 million units sold in 2015, annual iPhone sales have been bobbing around the 215 million mark ever since. The company has shifted its focus toward services like Apple Arcade and Apple TV+, which don't require regular upgrades.
In Apple's most recent quarterly report, issued this week, we learned that iPhone revenue fell below 50 percent of the company's total for the first time since 2012.
iPhone 11: What We Know So Far
The next iPhone, expected to launch in September, could offer some welcome improvements over the iPhone XS, XR, and XS Max. Previous CAD drawings show the device in action:
The lineup is expected to retain the same screen sizes as before, offering a 5.8-inch and 6.5-inch OLED screen device and a 6.1-inch LCD entry-level device. The entry-level LCD device may receive an extra camera lens, bumping the count up to two.
On the premium models, Apple could introduce a triple-lens camera setup. This would be used to offer a wider angle, potentially repairing photos automatically to ensure all subjects can fit into a group shot.
The phones could also support new connectivity modes like Wi-Fi 6, which brings 5G-like speeds to home internet. It may also support ultra wide band, necessary for seamless navigation indoors.
The device could also offer bi-directional charging, enabling a user to place their wireless-enables AirPods on the device to top up the case. Wireless headphones may also receive a boost through dual Bluetooth headphone support.
iPhone 2020: Why It Could Blow iPhone 11 Out of the Water
Apple's following release could bring something even better. This could offer full OLED displays across the range, arriving in three sizes: 6.7-inch, 6.1-inch and a new, smaller 5.4-inch.
The company is expected to bring 5G connectivity to the premium models in the lineup, giving access to networks that in some situations can reach gigabit speeds. The move would come after Apple acquired Intel's modem division, and could mark the start of a new journey for its in-house communications talents.
Another rumor, from prolific leaker "Ice Universe," suggests Apple could also introduce a switch to move between the standard 60 Hz display refresh rate and a faster 120 Hz rate, similar to that seen on the iPad Pro. This faster speed would make movement look smoother, offering more seamless scrolling.
Other rumors include a time-of-flight sensor for improving augmented reality and other features, similar to the vertical-cavity surface-emitting laser rumored for the iPhone X. Another rumor suggests the company could reduce the size of the Face ID-housing notch, or even remove it altogether.
Of course, nothing is confirmed until it's announced from the stage at the Steve Jobs Theater at Apple Park. Based on current conversations, and the company's overall trajectory, the 2020 iPhone will be the one to watch.