iPhone 2020: Apple's Future Phones Might See Drastic Changes in These Areas
Next year could be an iPhone renaissance.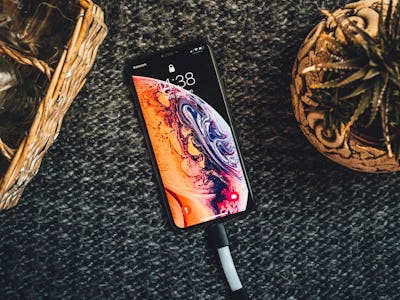 Unsplash / Pascal Brändle
The iPhone XS, XS Max, and XR introduced only marginal changes, and a similar roadmap is expected for the upcoming 2019 roster. It's in 2020, then, when Apple is expected to truly reimagine its signature line of handsets.
The biggest differentiators will likely be in the displays. Apple reportedly intends to launch three drastically different-sized OLED smartphones in 2020, according to a DigiTimes report on Tuesday. The trio includes 5.42-, 6.06-, and 6.67-inch display variants, which would be the widest range for any single model of iPhones, according to sources from the company's supply chain speaking to the publication.
Users would have the option of screens that are roughly as small as the 5.5-inch iPhone 8 Plus, or a massive display that's even bigger than the XS Max. The big change here is that unlike the current 5.8-, 6.1-, and 6.5-inch lineup that Apple rolled out last year, users who long for souped up specs in a smaller package will get an option just for them, as opposed to sacrificing on both the size and quality of the display.
The report also says that Apple will completely phase out LCD screens by 2020. Currently, the iPhone XR uses a less-vibrant and flexible LCD screen — as opposed to the swankier OLED displays found on the XS and XS Max — to cut costs. But by 2020, the Cupertino-based company will have found other ways to improve price-points on entry level models.
The 5.42-inch model still seems to be the one that will cost the least. DigiTimes's sources told them that it will come with either Samsung Display's Y-Octa or LG Display's TOE. Both of these panels allow for the integration of touch sensors directly into the screen, which slightly decreases the device's thickness and cuts the overall cost in production.
An update like this could enable Apple's "budget" 2020 iPhone to tout premium feel. Last year, the iPhone XR's display was widely seen as "inferior" next to the XS and XS Max. That might not be an issue for the company next year.
DigiTimes's report that Apple will ditch LCD displays bolsters a Wall Street Journal report from January stating that Apple would adopt OLED tech in its iPhones across the board.
OLED screens offer a number of benefits besides being brighter and clearer. Individual pixels on an OLED screen can be switched off offering deep blacks without any backlight illumination. The WSJ stated the upgrade could "allow for more flexible handset design," which could help with stretching iPhone displays closer to the phone's edge to create a bezel-less look.
Alternatively, an Apple patent patent published in December indicates that future iPhones that could have screens that wrap all the way around it. A device like this could turn iOS devices into all-in-one gaming platforms where the iPhone is used as a controller.
In the short term, an all-OLED future will usher in flashier entry-level devices. But in the long term, the transition to all-OLED iPhone lineups is about way more than improving picture quality — transitioning to OLED only displays lays the groundwork to begin reimagining what a smartphone can really do.