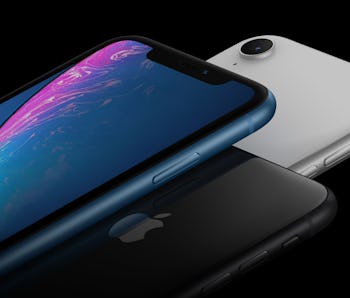 Innovation
The iPhone XR Might Have an "Inferior" Screen, but You Won't Be Able to Tell
It's really not a big deal.
Apple
The iPhone XR's display has been in the hot seat recently. While most reviewers seem to love Apple's newest budget smartphone, certain users and YouTubers have taken issue with the XR's screen pixel density, which comes in at 326 pixels-per-inch compared to the XS and XS Max's 458 PPI.
But Ray Soneira, the president of DisplayMate Technologies, a company that tests device displays, tells Inverse that the XR's inferior specs don't matter at all. In fact, it might even benefit the colorful iPhone's LCD screen.
"The iPhone XR display may perform even better than the iPhone 8 Plus because the 8 Plus has 401 [pixels per inch], and the XR has 326 PPI," he tells Inverse. It turns out PPI might not be the greatest measurement of display quality, and that's because sharpness is in the eyes of the beholder.
Soneira says that what really matters is "perceived sharpness," which depends on your vision compared to 20/20, and viewing distance from the screen.
Apple owns the trademark to the word "Retina" in the screen industry, which it first debuted with the iPhone 4. The company defines this as any display where the human eye can't discern individual pixels.
That threshold is somewhere in the ballpark of 326 PPI on an LCD screen, so the only purpose increasing density would serve is slapping a bigger number on a phone's spec sheet.
"Most of Apple's recent smartphones, including the iPhone XR have 326 PPI, which appears perfectly sharp for 20/20 vision down to a viewing distance of 10.5 inches. Increasing the PPI would provide no visual benefit for humans," he said. "It is absolutely pointless to further increase the display resolution and PPI for a marketing wild goose chase into the stratosphere."
This iPhone XR controversy gained traction after YouTuber Lewis Hilsenteger — the creator of the channel Unboxed Therapy with 13 million subscribers — of Unbox Therapy posted a video titled, "The iPhone XR Is Depressing…."
In the video, Hilsenteger slams Apple for providing the identical pixel density of the iPhone 4 in a 2018 release.
It turns out 326 PPI is tried-and-tested optimal density for LCD screens. However, this doesn't mean there won't be a display difference between the XS and XS Max.
Both of these premium flagships have OLED screens, which are brighter and more vibrant. The XR will also play videos at a maximum of 828p and not the 1,080p quality that many people have become accustomed to. That's because it has less than the 1,080 horizontal pixels needed to play 1,080p videos on Netflix or YouTube.
So if you were hesitant about picking up the XR simply because of its pixel density, order with confidence. You won't be able to tell.