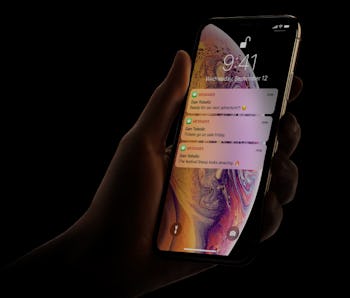 Innovation
iPhone XS: What's in the Box?
What accessories to expect if you upgrade to the iPhone XS. 
Apple
The first batch of pre-ordered iPhone XS is expected to arrive as early as September 28, roughly a week later than the September 21 launch date. So what should you expect if you've chosen to cop the $999 successor to the iPhone X? Expect a largely similar unboxing to the one that awaited last year's iPhone X customers with one key exception.
That's because this year's product launch was incremental, and a majority of the upgrades are subtle and under the hood. Most notably, Apple's new A12 Bionic processor will pack more computational power while using less energy, which will enable all-new camera effects, and take mobile gaming to the next level. The iPhone XS, along with the XS Max, will also be the first Apple phones with variants touting 512 gigabytes of storage capacity, enough to fit 200,000 pictures in the Photo app.
But unlike last year, users will probably have to play with their iPhone XS for at least a little while before they really begin to appreciate the difference.
iPhone XS Unboxing: Apple Wants You to Buy AirPods
The big change? Sorry, but Apple isn't going to throw in a complimentary pair of their $159 AirPods this year. Instead, users should expect the usual $29, wired EarPods with Lightning Connector that have come bundled with every iPhone since the 7. Not only that, but yet another, smaller component will also be glaringly absent this year.
We're talking of course of the 3.5m Lighting adapter, also known as the dongle, which likely won't be included with the iPhone XS, XS Max, or Xr this time around. This change was predicted in April as part of a strategy designed to nudge users to upgrade to AirPods.
It's no secret that Apple is moving toward totally tether-free smartphones by gradually abandoning all connectors and wires; ditching the dongle is the next logical step toward achieving that goal. The internet was irked when the tech giant decided to do away with the headphone jack, so including a dongle was a way to appease users that didn't want to go wireless.
But move forward just a few years, and the AirPods have proven to be a hit. Luckily, if you have your old dongles those will work just fine, though a replacement set run you $9 at the Apple store.
iPhone XS Unboxing: The iPhone
Needless to say, the iPhone XS itself will come in Apple's signature white box. Customers have three color options to choose from this year: silver, space gray, and gold. Once you pick your finish you can choose the amount of memory you want your handset to pack. It comes in 64GB, 256GB, and 512GB for $999, $1,149, and $1,349 respectively.
The device will come retrofitted with a 5.8-inch OLED display with 2,436-by-1,125 resolution and 458 pixels per inch, just like the iPhone X, for some crisp picture and video quality. The XS will be slightly heavier than its predecessor, clocking in in 6.24 ounces (177 grams) while the X weighed in at 6.14 ounces (174 grams).
iPhone XS Unboxing: USB to Lighting Charger Adapter and Cable
Seeing as Apple is not yet ready to make the jump to a wireless charging ecosystem, users will also receive the standard USB to Lightning wired charger combo. Apple's run-of-the-mill charging block provides 5-watts of juice, but the company also offers a more powerful 12W USB power adapter for those wanting to reduce the time it takes to recharge their iPhone XS.
The handset also comes with built in Qi wireless charging capabilities. This will work with any Qi charging mats you buy separately.