AirPower No Show: What's Going on With Apple's Signature Wireless Charger?
AirPower? iPads? Bueller?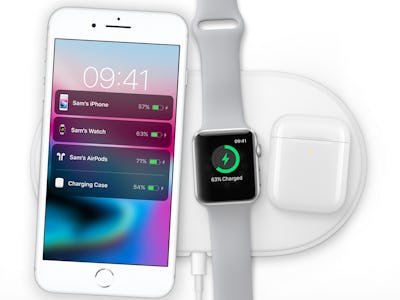 The most striking thing about about Wednesday's iPhone keynote was not the iPhone XS Max's massive screen or even the Apple Watch's new heart rate monitor. It was a device that never made it, the long-awaited AirPower which was introduced at last year's iPhone event.
Following the unveiling of the iPhone XS, XS Max, and Xr, Apple refreshed its homepage to reflect its new handsets while concurrently eliminating all signs of the AirPower on their site. The website previously stated the charger would be available for purchase in 2018 — many (including, admittedly, us) took this year's invites as further evidence of its imminent release — but this looks increasingly unlikely.
This change furthers the prospect of a setback, which are increasingly common at the world's most important hardware company. A January Wall Street Journal analysis found that the time between when Apple products are first revealed and when they're shipped to customers has doubled under CEO Tim Cook.
This omission raised eyebrows, as it seems increasingly clear that Apple SVP of worldwide marketing Phil Schiller revealed it long before the product was anything close to ready. In the 2017 hype video, the executive touted that it would able to charge an iPhone, Apple Watch, and pair of AirPods all simultaneously.
But the three-way charger fell off the radar in the subsequent months until a June report alleged Apple engineers were struggling to fit all of the necessary components to make this product a reality in the available space. But at the time, those engineers reportedly still insisted on a September release at the latest. With two and a half weeks left in the month, the AirPower will seemingly miss this expectation.
AirPower Release Date: Will AirPower Still Make 2018
Apple is in desperate need to roll out a proprietary wireless charger. The iPhone 8, 8 Plus, and X all shipped with built-in Qi charging capabilities, but users have had to exclusively rely on third-party chargers since their release. This will continue being the case unless the Cupertino-based company announces another product release late in the year, which could happen.
Following the September release of the iPhone 8 and 8 Plus in 2017, for example, Apple held two subsequent events on November 3 and December 14 to reveal the iPhone X and iMac Pro. The year prior, three new MacBook Pros were announced in October and the AirPods were unveiled in December.
The AirPower is seen as crucial towards achieving Apple's goal of a completely wireless future. But unless the company schedules another press event soon, that vision seems to be on hold.