Apple "Gather Round" Invitation Has a Big Gold Hint
Let's all gather round and read way too much into this. 
by James Dennin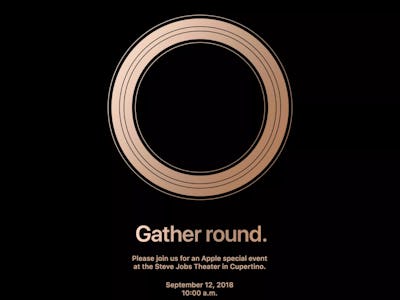 Apple sent the event invites out for its upcoming product launch on September 12 on Thursday. And while the spotlight at the event is usually the company's new iPhones, some fans are taking cues from the invitation to mean that the event will emphasize something else.
Let's start with the more far-fetched of the theories about this year's typically sparse invite. The circle kind of looks like a lens, which some took to be some sort of hint about the company's augmented reality efforts. There may be some recency bias at play here, just yesterday Apple confirmed that it had purchased Akonia Holographics, a small Colorado-based company that makes augmented reality glasses.
But, to be frank, that seems a little out there. If you were going to do a big event to rollout of your augmented reality glasses, wouldn't your circular invite feature two orbs, instead of one? Doesn't quite make sense. Let's move on.
Others have theorized that the circle hints at a redesigned Apple Watch. It seems very likely that we'll see some new Apple Watches at the event, based on a string of rumors and patent filings that have been spotted in the EU. But it would be a pretty drastic change.
Of course, one of the most logical interpretations would be to simply take the circle at face value. Both the Apple Park, Apple's corporate headquarters, and the Steve Jobs Theater are shaped exactly the same. Is it out of the realm of possibility that the "gather round" refers to the journalists and analysts who will be gathering round at Apple's very round headquarters? It's certainly possible.
Does Gather Round Refer to AirPower?
While many took the color to be an allusion to the upcoming rose gold version of the iPhone XS, it's also fairly described as copper, depending on how you look at it. The copper color, the round shape, and the (admittedly few) words on the invitation have led some Apple fans to speculate that it's an allusion to AirPower.
"Gather round," perhaps, could refer to the process of gathering one's plethora of beloved Apple devices all around one single charger.
AirPower, of course, was announced last year, and is meant to be a wireless charging dock capable of juicing up multiple devices simultaneously. That, at least was the plan, but technical hiccups led to a number of delays, and AirPower still hasn't hit the market.
The problem, according to a Bloomberg report from earlier this summer, was that Apple technicians had a hard time figuring out how to get the charging components for three different devices — and their sensors — into such a small space. The round could be a big hint that Apple's storied engineers have finally figured it out.