Apple Has Sent the Famous Invites for Its September 12 Product Launch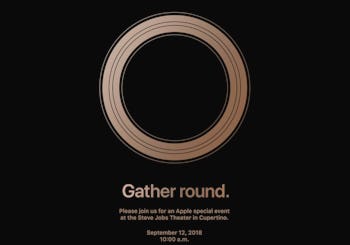 As expected, Apple will be holding a special event at the Steve Jobs Theater in Cupertino on September 12 to announce its latest latest batch of hardware, which is expected to include three new iPhones, a new line of iPads, and perhaps AirPower. As is tradition, Twitter was soon awash in humble-brags from those who made the guest list.
The invites were sleek and sparse in true Apple fashion, reading "Gather round" with a few event details, an RSVP link, and some fine print along the bottom. The event, held on the same date as last year, will kick off at 10 a.m. PST.
One unexpected twist? This year's event may wind up being broadcast on Twitter, according to some early reports from the technology site BGR.
iPhone 9, iPhone XS, and iPhone XS Plus?
According to a stream of leaks, the consensus is that Apple plans to launch two higher end OLED models, as well as a cheaper version with an LED screen that could wind up outselling the other two combined, according to one analyst estimate. That's all expected to help make this year's product launch one of the most successful in recent memory.
Another recent leak has also indicated what the new iPhones will be called. In a bit of a twist, the budget option will be dubbed the iPhone 9, the neglected number which was skipped as Apple went from releasing the iPhone 8 to the iPhone X.
The $899 5.8-inch OLED will be reportedly be dubbed the iPhone XS, while the top of the line iPhone XS Plus will run for $999. Of course, these names are just rumors for now, but fortunately the wait for all of the actual details is almost over.
Apple Invitation Easter Eggs?
One interesting Easter egg that may have been included in the events? Take a look at the gold circle, which many likened to the circular scroll pad that used to be on the old iPods. It's probably a reference to the circular Apple headquarters, though the rose gold color is interesting.
One of the earlier iPhone rumors from this year's hype season was the idea one of the models, likely one of the higher end OLED iPhones, would be presented in rose gold. Based on the color of the invites, it seems increasingly likely that those early leakers got it right.
Will Apple Release a Round Apple Watch?
Some speculators have also taking the circular invites as evidence that some bigger-than-usual changes are coming to the Apple Watch. In the past, Apple Watch updates have usually moved pretty incrementally, the biggest change last year was enabling cell phone connectivity, so Apple Watches to take phone calls.
Apple is indeed expected to unroll a new Apple Watch this year, though reading that much into the sparse invites seems a little speculative. But we do have some clues.
Last week, European blogs spotted some regulatory filings which suggested Apple plans to unroll 6 variations of the new watch, and other leaks have indicated that a larger (though not necessarily circular) display is in the works.
It also seems like a good product to emphasize in the invites, as Apple competitors have also been ramping up the smart watch game. Samsung recently unveiled a new smart watch at its UNPACKED event earlier this month, and Google seems to be working on a Pixel Watch as well.