The New iPhones Announced at 2018's Keynote Could Be Best Seller Since Series 6
Suppliers are expecting big numbers.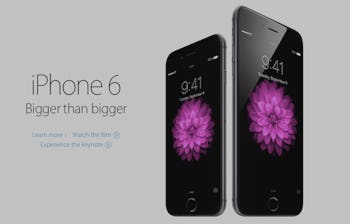 iphonehacks.com
Apple's upcoming iPhone launch may not introduce its all time best-seller, but it may come surprisingly close. That's in part thanks to the widespread consensus that the company will be rolling out a new iPhone at a lower price point than the pricer iPhone X.
The latest evidence that this year's iPhones will be a hit comes from Digitimes, which reported on Tuesday that Apple suppliers like Taiwan Semiconductor Company and Foxconn expecting the new iPhone to ship between 70 and 75 million units by the end of the year, the most since the iPhone 6 series.
A common thread between the two years may be the size of the new models. The new high-end smartphone that Apple announces in September is expected to be Apple's largest smartphone ever with a 6.5 inch display.
Similarly, when the iPhone 6 series launched, it was the first year when an iPhone launch featured a model with a larger screen. As Ben Lovejoy but it in a 9to5Mac, "there are plenty of people for whom bigger is better when it comes to a phone."
But an even bigger seller might be the budget model, which is expected to bring a lot of the iPhone X's most favored features like Face ID to a lower price point, possibly around $700. The expectation is that Apple plans to achieve this by using a cheaper, LCD screen compared with the OLED screens on the other two phones.
According to a Chinese analyst report first spotted by *9to5Mac, the one cheaper LCD model could possibly outsell its two more expensive counterparts combined.