Everything We Know About Apple's Next iPhone Announcement
iPhone season is upon us.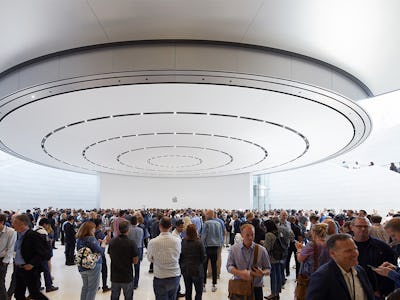 Apple
The Super Bowl for Apple fans has almost arrived and this year could bring some major changes to the Cupertino-based company's signature iPhone. While the exact date for 2018's anticipated iPhone keynote has yet to be revealed, Apple has habitually hosted a yearly launch of new handsets in September since 2012. The 2017 iPhone announcement fell on September 12.
Invitations to prior keynotes have been sent out two weeks in advance, so expect RSVPs to be sent to tech analysts, investors, and journalists as early as August 20. Forbes contributor, David Phelan, believes that Apple sends out invites preceding the IFA Berlin consumer electronics show and estimates this year's will be sent on August 30.
While iPhone season is indeed upon us, bear in mind this year, in particular, we could be getting a whole lot more than just smartphones come September. According to recent rumors, a wireless charger, Apple Pencil updates, and massive storage improvements could all be on the table. If this chatter proves to be true, we could see what amounts to a pretty substantial overhaul of the Apple mobile ecosystem.
Apple Keynote 2018 Rumors: New iPhone Trio
Naturally, the spotlight will be on the three new iPhones that will make a debut. The whirlpool of online Apple rumors has come to the consensus that the company will drop two OLED handsets, one 5.8 inch and one 6.5-inch, as well as one 6.1-inch LCD phone.
The smaller of the first two will the next iteration of the iPhone X — sometimes called the "iPhone X2" or "iPhone 11" on the blogosphere — while the larger of the two has been dubbed the "iPhone X Plus". The LCD model has been said to be a budget-friendly variation often referred to as the "iPhone 9", picking up from where the iPhone 8 and 8 Plus left off.
Both OLED variants will likely be on the higher end of the price scale, with the 6.5-inch and 5.8-inch phones expected to start at $999 and $899 respectively. But the third and potentially cheapest 2018 model could be priced exactly like the current iPhone 8.
According to a report by TrendForce analysts, the 6.1-inch iPhone could be priced at around $699 to $749. Prior reports have claimed that Apple plans on only including a single rear camera and using an LCD display instead of an OLED to bring down this phone's cost. But don't worry it'll still be a lot like the iPhone X.
Virtually every leak, render, and rumor we've seen so far suggests the notch is here to stay and so is Face ID — the facial recognition tech that replaced the Touch ID finger scanner in the iPhone X. Murmurs from Apple's supply chain suggests the company is getting ready to place a huge order of components for its TrueDepth Camera, which enables Face ID.
Apple Keynote 2018 Rumors: Mobile Apple Pencil Support & Improved Storage
The same TrendForce release also stated that Apple could take a page from the Samsung Galaxy Note 9's playbook by incorporating stylus support and greatly boosting the phone's storage capacity.
The note states that the new trio of iPhones could come with Apple Pencil support and introduce a 512GB storage option. Currently, Apple Pencil support is only offered on iPad Pros and sixth generation iPads. The potential storage update would effectively double the memory of any iPhone before it (for comparison, the iPhone X offers up to 256GB of space.)
TrendForce's Apple Pencil claims bolster statements made by respected Apple analyst Ming-Chi Kuo and unearthed patent filings suggesting that Apple is working on bringing the Apple Pencil to the iPhones. This is the first time we've heard about the potential for 512GB storage, but seeing as Samsung has stepped up its storage game it would only make sense for Apple to do the same.
Apple Keynote 2018 Rumors: AirPower Will Finally Arrive
A year after its initial announcement, the much-hyped AirPower wireless charger will likely make its debut alongside 2018's iPhones. The heralded charging pad might go to market for around $150, according to "industry insiders" interviewed by Chinese blog Chongdiantou.
The AirPower was touted to be able to charge an iPhone, Apple Watch, and a pair of AirPods at the same time. The same article states that the mat will come retrofitted with 22 coils enabling it to charge a host of devices at once.
Currently, Apple users have had to rely exclusively on third parties to utilize the built-in wireless charging capabilities of the iPhones 8, 8 Plus, and X. A previous Bloomberg report alluded to the fact that Apple could be looking to go completely wireless, including ditching the Lightning Port in future iPhone iterations. This could be the year where the first step of that plan is rolled out in earnest.