The Samsung Galaxy Note 9's S Pen Is a Game-Changing Picture Assistant 
Say goodbye to camera timers.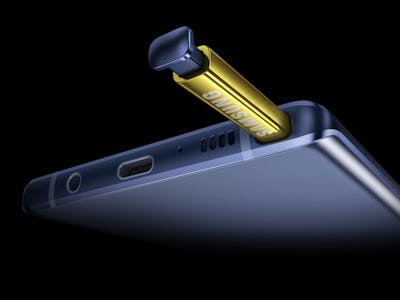 Samsung
The Samsung Galaxy Note 9 made its debut on Thursday alongside a host of gadgets and software at a New York City press event. The so-called "phablet" touted massive storage space, a new intelligent camera, and a revamp to its signature stylus, the S Pen.
Unlike any other previous Note iteration, this year's S Pen is powered by a Bluetooth Low Energy module and a supercapacitor. This transforms it from a simple digital pen to a full-fletch remote control that can be used to interact with some of the Note 9's key features, like the phone's A.I. powered camera.
All you have to do is pop out the S Pen from its port, hold down its side button, and it will immediately boot up the camera app. This shortcut is set by default, but you can customize it to launch any app the Note 9 has to offer.
Samsung S Pen's Best Features
Once you've propped up your phone for the perfect shot or you're trying to take a group selfie with your friends, simply click the S Pen again to snap the picture. You won't have to worry about accidentally blurring the image by tapping or clicking the phone, making it like a remote shutter button attachment for professional-grade cameras.
This simple S Pen capability eliminates the need for camera timers that you need to keep running back to in order to check if it actually took the picture you wanted.
Once you've take your shot, you can also use the S Pen to tweak its saturation, overlay some text, or freehand draw a yellow mustache. Taking and editing photos has never been as seamless or tactile.
Samsung fans will be able to get their hands on the these mobile photography features as early as August 24. Pre-orders for the Note 9 begin on August 10 with a $999 starting price.