Samsung's Galaxy Home: The Speaker With a Bixby Brain Debuts in Brooklyn
Samsung: "This is a perfect example of how we are expanding our ecosystem of intelligent devices."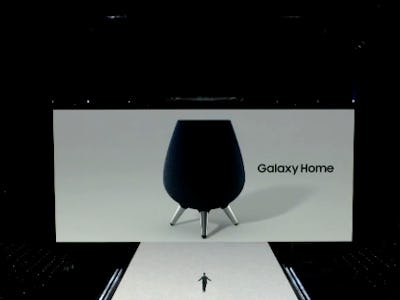 Samsung unveiled a new Smart Home speaker called the Galaxy Home at its UNPACKED conference in Brooklyn. In addition to the new Galaxy Note 9 and a new smartwatch called the Galaxy Watch, one of the standouts was a new smart home product that combines speakers with the company's new smart assistant Bixby.
Samsung is actually partnering with Spotify to create a seamless music integration, and the sound seems pretty good, too. The company demoed the speakers at the event, actually using 160 of of them to provide the sound for the smart home's introductory video, which adequately filled up the room in the basketball stadium where the event was hosted.
Its speakers face out, sending sound in every direction and features a subwoofer to provide the base. It plans to come with Harman natural sound processing and its sound steering technologies, which try to optimize the sound based on where you're standing in the room.
"This is a perfect example of how we are expanding our ecosystem of intelligent devices," said Ji Soo Yi, Samsung's VP of A.I. "These are only possible with a scalable A.I. platform."
How Smart is Bixby, Samsung's Smart Assistant?
Bixby's differentiating features, Yi explained, seemed designed to try and prevent users from having to repeat themselves constantly when using the voice assistant. It's meant to be able to have a conversation with you, Yi explained. In practice, this meant Bixby was able to recommend concerts to Yi with the right date just based on a query like "Labor Day weekend" or the "first weekend in October."
More interestingly, Yi didn't have to remind Bixby that he was looking at concerts as he moved from weekend to weekend, the smart assistant was able to recall that they were still looking for concerts, just on different weekends. It also remembers which vendors you use, so you don't need to tell it to open up, say, Yelp if you want to book a restaurant reservation.
Unfortunately, the company was tight lipped about details regarding when the new speakers will be available for purchase. But they promised a lot more details at the yet-to-be-announced Samsung Developer Conference.