AirPower Wireless Charging Mat Could Launch Alongside a New iPhone
The company has big plans for the future.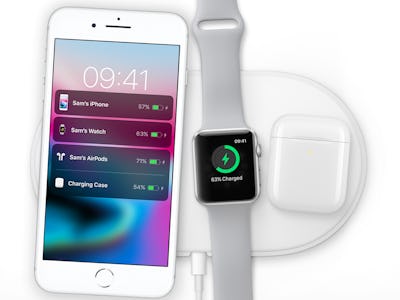 Apple is about to upgrade its wireless charging capabilities. AirPower, a new charging solution unveiled alongside the iPhone X last year, is set to go on sale imminently. However, previous reports suggest Apple may have something more in store for users, with rumors pointing to new iPhones.
TechRadar and Mac Otakara report that the device will go on sale in March. The mat uses an extension of the Qi wireless charging protocol, enabling it to be used with smaller devices like the Apple Watch Series 3 and an upgraded version of AirPods' charging case. The company has submitted these changes to the consortium for inclusion in a future version of the standard.
It may not be the only product going on sale in March, though. Earlier this month, DigiTimes claimed that new iPhone, iPad and MacBook devices would also debut in March. While it's almost certain Apple isn't about to replace the iPhone X with a new flagship, the publication has indicated the company may seek to launch a new version of its 4-inch iPhone SE smartphone, which launched in March 2016 for $399 with a 12-megapixel camera and the latest A9 processor. An update to the device could prove a welcome change for users that don't care for the 4.7-inch screen found on the iPhone 8, currently the smallest screen on a flagship iPhone the company offers.
When AirPower launches, it will mark a sea change in the company's attitudes toward wireless power. A standard feature on many flagship Android devices, Qi charging only debuted on the iPhone 8, 8 Plus and X that launched in the fall of last year. Rumors suggested that Apple was instead seeing out a truly wireless solution that required no contact with a charging mat, but at the time of writing these solutions have yet to find their way into the mainstream smartphone market. Apple's full-throated adoption of Qi could help push the single charging standard to a broader audience.
But in terms of public reception, it's possible that an upgraded iPhone SE could be the star of the show in Apple's March lineup. The original received positive reviews, with The Verge describing its speed as "a little pocket rocket," and CNet calling it "a really good little phone." Apple may be able to answer the needs of those that don't want the largest screen in the world.