Apple Wants Its New iPhone SE to Be Your Gateway Device
You can get 9.3 today, and the SE in just over a week.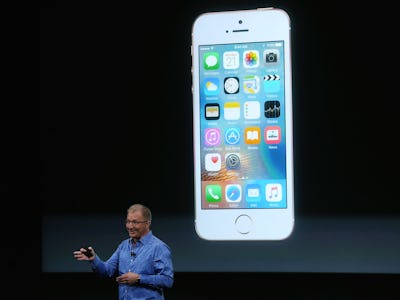 Getty Images
Today Apple announced the release of a small-but-mighty iPhone — the iPhone SE — at its Special Event. The SE is the "most powerful 4-inch phone ever." And, for a brief spell this afternoon following the announcements, the traffic was such that the Apple iPhone page was bending under the weight, reverting to simple HTML.
Philip Schiller, Apple's senior vice president of worldwide marketing, likened the phone to a gateway for new Apple customers — and for the majority of customers in China. "This last year we sold over 30 million four-inch iPhones," he said, before noting there were two reasons: "Some people simply love smaller phones," and "for a lot of these customers, it's their first iPhone."
"Whether they are switching from Android or its their first smartphone, it's the first time they are experiencing iOS," he said.
The SE is equipped with powerful components, like a 64-bit A9 chip, an M9 motion coprocessor, and a 12MP iSight camera that also shoots 4K video. It boasts the same performance as the iPhone 6s — but the 6s starts at $649. The 16GB SE, however, starts at just $399. (The 64GB will be $499.) In addition, the SE is three times faster than the 5s.
The motion coprocessor is "always on," which Apple thinks is great: it'll track your fitness better than ever, and Siri will always be a question away. (Now all it takes is a "Hey, Siri"; no longer must you hold your thumb on the home button to get your personal assistant to work.) Luckily for us, Apple's pretty good with encryption, and Tim Cook is adamant that it remains that way.
You can start ordering the new iPhone on March 24 — this Thursday — and a week later it'll be available.
Also announced at the event was the release of iOS 9.3, which brings some exciting new features to all existing (and soon-to-be-existing SE) iPhones. With 9.3, we at last get the iPhone version of f.lux. Apple is calling it Night Shift, but the concept is both simple and exciting: At night, your iPhone will limit the blue light that your iPhone emits and replace it with more candlelike light; research (and strong personal, empirical evidence) suggests that blue light in the dark can keep you awake.
Updated as well in 9.3 is Notes, one of the iPhone's most popular apps. Now, you can fingerprint-protect your Notes in particular in addition to your iPhone in general.
If you missed it, watch a replay of today's Apple event.