Apple Wants to Bring a Major HomePod Feature to the AirPods
The company is upgrading its wireless AirPods.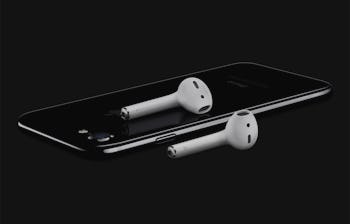 Apple
Apple is making its AirPod wireless headphones even better. The company is reportedly working on bringing the voice activation talents of the HomePod smart speaker to the miniature earbuds, in an upcoming hardware refresh that may also bring waterproofing.
Bloomberg reported on Thursday that the $159 earphones, which launched in December 2016 and have yet to receive an update, will be upgraded this year in a project codenamed "B288." The company will introduce the "Hey Siri" command that invokes the voice assistant, eliminating the need to touch the side of the device.
In many ways, it's unsurprising that Apple is bringing "Hey Siri" to the AirPods. Reviews of the $349 HomePod that launched earlier this year have highlighted the feature as among the most impressive, with the internal microphone array able to hear the command even over really high music volume. The company has also included the command on the iPhone, ever since the 6S launched in 2015, using the M9 co-processor to listen out for the command all the time. Internally, the same Apple team that designed the HomePod was also responsible for the AirPods.
Apple also plans a number of small changes to the AirPods to improve their daily use. The internal wireless chip will receive an upgrade, although details are scarce. The W1 chip in the original AirPods, later brought to a number of Beats headphones, received high praise for its instant pairing with iPhones and its strong ability to hold a connection. The W2 chip debuted in the Apple Watch Series 3, and it made Bluetooth and Wi-fi 50 percent more power efficient than the previous smartwatch generation.
The company also plans to waterproof the AirPods, but they're unlikely to survive complete submersion. The iPhone 7 and its successors have included water resistance rated to IP67, meaning they can survive around half an hour in water shallower than around three feet. The Apple Watch from Series 2 onwards can survive a swim in shallow water, like a pool, but based on current plans it's unlikely the new AirPods will work as a sports companion.
These changes are on top of the previously-announced improvements in wireless charging. Apple plans to launch the AirPower mat at an as-yet unspecified date, which extends the Qi wireless standard to support smaller devices like the Apple Watch Series 3. It seems the company has big plans for its tiniest products.