The Apple HomePod Reviews Are in, and They're Surprisingly Good
There are some flaws, though.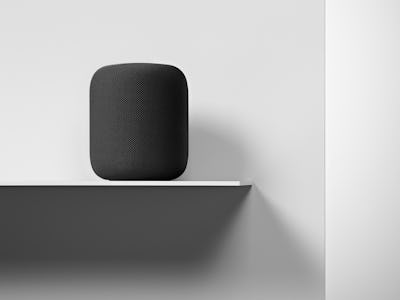 Apple
Apple's HomePod is almost here. The $349 smart speaker, first announced at the company's annual developers' conference last June, is set to launch on February 9, with pre-orders already available. A number of reviewers got to try out the Siri-powered product ahead of launch, and while they noted some flaws, they were impressed with the sound.
"What I did learn from the demos was that the HomePod is capable of playing quite loud for its size, and it has a little more bass and a slightly more defined overall sound than the Sonos One," David Carnoy wrote in his CNet review. "It trounced the new, improved Echo, which sounded recessed and off-key in comparison — but considering the Echo's cost, that was hardly a surprise. My gut reaction was that the HomePod sounded more natural and tonally rich than the larger Google Home Max."
It's good news for such a small unit, measuring just seven inches tall and 5.6 inches wide. A seven beam-forming array with individual drivers and precision acoustic horns works together with an Apple-designed four-inch woofer (packing 22 millimeters of excursion) and automatic bass equalizer.
"To say the HomePod outshone the Echo is obvious: The Echo's soundscape sounds more like a 90s car radio than a true room speaker, and it struggles mightily when being asked to fill a large open room as the center of attention, rather than background music," Serenity Caldwell wrote in her iMore head-to-head.
Even the sound is smart. The speaker will bounce audio off the walls and measure the feedback to change how it sounds. An accelerometer is used to tell when the HomePod has moved, allowing it to re-scan the room. Two HomePods will work together to provide a stereo sound experience — eventually. Unfortunately, the linkup is set for a future software update.
"The HomePod is able to scan your room and adjust sound to match the acoustics, and it showed: I was able to enjoy the music it produced wherever I stood in Apple's demo room, an austere living space with a few bits of choice furniture," Pete Pachal wrote for Mashable. "Even when I wandered behind a piece of greenery, the acoustics weren't discernibly changed."
"As Sia's 'The Greatest' played out, the HomePod sounded impressive: strong bass rang out – which was perhaps the overriding audio takeaway for the speaker – but the vocals still seemed sharp and crisp," What Hi-fi said in its hands-on. "In comparison, the Sonos Play:3 appeared uncharacteristically flat, while the Amazon Echo felt almost pedestrian."
It wasn't all good news, though. Some reviewers were left perplexed at some of Apple's decisions. There is no Bluetooth audio support, meaning any streaming from another device has to use Apple's Wi-fi-based AirPlay protocol. There's no buttons, depending on a tap on the top for playback control.
"There's no indicator on the HomePod to know at a glance if the mic is on or off," Michael Prospero wrote in his hands-on for Tom's Guide. "It's a feature on pretty much every other smart speaker I've tested, and something Apple should add."
The system is heavily integrated into the Apple ecosystem. It currently only supports Apple Music as a streaming service, and it lacks the sort of expansive range of third-party apps offered on the likes of Amazon Echo.
"The integration of Siri is most welcome on the HomePod, and it can do everything Siri can do for you on your iPhone," Jeremy White wrote in his Wired UK hands-on. "However, this also means that you get the failings of Siri as well as the benefits. Three times in our short demo Siri failed to understand what was being asked of it."
Overall, it seems the HomePod wowed writers with its punchy sound and comparatively small size, but this is not the Jetsons-style home assistant you may have hoped for. Not yet, at least.
"There's little question here that the HomePod is a speaker first, smart second, bucking the trend of the earliest Echo and Google Home devices," Brian Heater wrote in his TechCrunch hands-on. "Apple's engineers were able to get a lot of rich and full sound out of that little footprint."
If sound is your priority, it seems the HomePod is the one to choose.