Apple's HomePod Smart Speaker Just Got a Release Date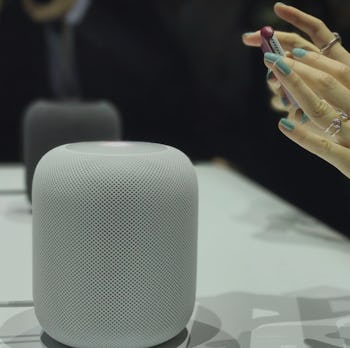 Flickr / nobihaya
Apple's HomePod is almost here. The $349 smart speaker, which uses the Siri voice assistant to offer artificial intelligence-powered responses to queries, got a release date on Tuesday. Apple's answer to the Amazon Echo launches on February 9, with pre-orders starting as soon as Friday.
"We're so excited for people to get HomePod into their homes, apartments and businesses to hear it for themselves," says Phil Schiller, Apple's senior vice president of worldwide marketing. "We think they will be blown away by the audio quality. The team has worked to give Siri a deeper knowledge of music so that you can ask to play virtually anything from your personal favorites to the latest chart-topping releases, simply by saying 'Hey Siri.'"
Apple has put a lot of work into trying to beat Amazon in the marketplace. Although it's launching four years after the Echo, Apple has developed a speaker with an emphasis on superior sound quality. It has a seven beam-forming tweeter array with individual drivers, precision acoustic horns, coupled with an Apple-designed woofer and automatic bass equalizer. The speaker will bounce sounds off the walls to determine its location, accounting for whether multiple HomePods are placed nearby.
It's been a long time coming, though. Bloomberg reports that Apple's concept of a computer-powered speaker first started around six years ago. In that time, it's been reworked, redesigned and reinvented, while Amazon has pwoered ahead with the Echo, Echo Plus and Echo Dot. Finally announced in June 2017, the HomePod speaker missed its December release date, with an Apple rep claiming the company needed "a little more time."
The company is aiming for big sales. A report last week suggested the company was aiming to ship 10 to 12 million units this year alone. For a product late to market, with a price tag that places it in the high-end category, it's a tall order.