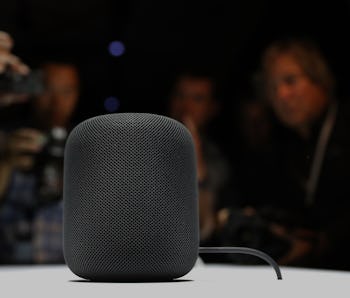 Innovation
Apple HomePod Is Delayed Until 2018, But Will It Arrive Too Late?
Could missing the holidays hurt its sales?
Getty Images / Justin Sullivan
The holiday season is gearing up to be a battleground in the voice assistance arena, and it's looking like another year of Amazon Echo vs. Google Home — and no Apple.
Thanks to a delayed launch date, Apple's entry to the voice assistance market, called HomePod, won't happen until after the new year. The company says it will start shipping units in "early 2018" throughout the U.S., U.K. and Australia. The HomePod debuted at Apple's Worldwide Developer's Conference on June 5, and was supposed to be available in December.
"We can't wait for people to experience HomePod, Apple's breakthrough wireless speaker for the home, but we need a little more time before it's ready for our customers," an Apple rep told The Verge.
Aside from losing out on big holiday sales to close out the year, yet another Apple launch delay is also seen by some as a sign of bad management. Former Apple employee Ryan Jones tweeted that Apple's constant delayed releases in the past few years are beginning to affect the company's pre-launches negatively.
"Tim promises launch dates — prematurely and unnecessarily," Jones writes. "Old Apple hardly ever missed launches (OS or hardware), now it's commonplace!" Jones is referring to the fact that under the notoriously quiet Steve Jobs, Apple never had reason to explain delays because it didn't announce or promise shipments to begin with.
"If Apple didn't promise HomePod in December the story would be all roses! If apple didn't promise messages in the cloud or peer-to-peer Apple Pay we would be wow'ed when it came out of nowhere. But now that story will forever be worse and muddied," he continued.
Not only do the constant launch date changes create a sense of confusion, more importantly they deter Apple's typical impeccable timing: delivering "surprise and delight."
As most have pointed out, Apple HomePod could have been a major sell during the holidays, given its high end speaker capabilities, which are being compared to the acclaimed Sonos home speakers.
Set to retail for $349, HomePod promises precision acoustic horns, an array of seven beam-forming tweeters with individual drivers, and an Apple-designed woofer and automatic bass equalizer. Multiple HomePods can work together to create a more powerful sound.
However, HomePod's iffy voice assistance capabilities are yet to be tested. Given Amazon's Alexa skills, which are growing by the day, and Google's expanding Home system with the latest release of the Mini, Siri has a lot of ground to make up. While Amazon and Google already have years under their belts when it comes to voice assistance, Apple is banking on the HomePod's affordable speakers to grow its HomeKit system.
Apple products have been known to still find success despite delayed launches. Judging by the similarly rolled out AirPods and Apple Watch, HomePod should have no problem selling as soon as it hits shelves.