Apple Finally Reveals Details on AirPods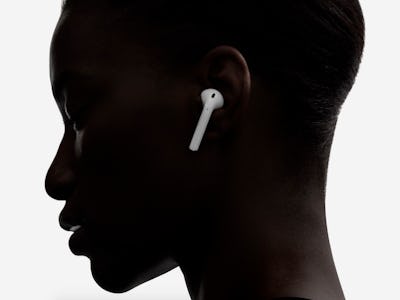 Getty Images / Stephen Lam
The wait is over: Apple updated its online store Tuesday with the option to cop AirPods — the wireless earbuds announced in September — for $159. In the first hour, orders were expected to ship by December 21 — which meant they would be there in time for Christmas, but it was short-lived.
By 10:40 a.m. Eastern, the shipping window had been updated to "four weeks," so expect them in January if you haven't ordered yet. You can also go to a brick-and-mortar Apple store to buy them on December 21.
AirPods were announced with the iPhone 7 to support Apple's claim that it removed the phone's headphone jack to pave the way for wireless audio. Apple senior vice president Phil Schiller amusingly said it required "courage" to "move on, do something new, that betters all of us" to make that decision.
How could nixing the headphone jack possibly be a bad thing if Apple had already created a pair of wireless earbuds better than anyone had used before?
The world has waited, forgotten about, and then been reminded of that question, in the past four months. AirPods were supposed to debut in October. The company didn't make a peep about them until now, with the AirPods page on the Apple Store website merely saying that they would be coming soon.
Many iPhone 7 owners probably gave up and bought a different pair of wireless earbuds or headphones so they could toss the painful EarPods included with each iPhone.
Apple is shipping the product for free, too. Other Apple products also offer free shipping but at least some of them won't arrive until after the holidays; perhaps Apple is rushing to finally get the AirPods out to customers or people doing last-minute shopping for gifts. That would make sense, given the long delay between the product's revelation and its launch.
So what are people going to get from the AirPods? The earbuds are supposed to use Apple's new W1 chip to offer improved sound and better connections than competitors that rely on Bluetooth. They also offer easy access to Siri, can be recharged in their carrying holster, and will automatically pause music when one of them is taken off. AirPods are also truly wireless — there's no dangling cord to connect the two earbuds or hit the back of your neck while you run.
There might be some adjustments needed to grow accustomed to AirPods, though. Many will probably be lost, given how small they are, and you'll have to plan ahead if you want to listen to music for a while because AirPods have a five-hour listening battery life. This can be extended to 24 hours by using the battery case, but that requires some preparation and regularly pulling out the earbuds to let them recharge.
Still, the AirPods are supposed to be Apple's proof that removing the headphone jack was courageous instead of arrogant. If the limitations aren't enough to dissuade you — and you haven't already broken down and bought some other wireless audio device because you were sick of waiting for Apple — you can buy AirPods from Apple's online store now.