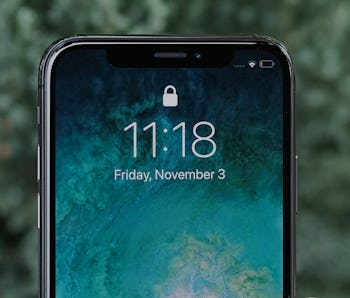 Innovation
More Evidence Emerges That All 3 of the Rumored iPhones Will Have Face ID
Touch ID might be done for good.
Flickr / Tinh Te Photos
Is Face ID here to stay or will it remain a premium feature for only the newest iPhones? There has been rampant speculation about whether the facial recognition tech that Apple introduced with the iPhone X will ship with all or some of this year's upcoming iPhone trio. Most recently, chatter from one of the company's crucial suppliers has added further evidence that all three of the new iPhones will ship with Face ID regardless of their pricepoint.
Lumentum Holdings is a major supplier of components for Apple's TrueDepth Camera, which enables Face ID. As the leaker Gordon Kelly pointed out in Forbes, Lumentum's second-quarter earnings report stated that it saw a spike in its augmented reality and 3D sensing sector. This figure led analysts to believe Apple may include facial recognition in all three of its upcoming handsets.
More specifically, the company anticipates order volume for these electronic parts to "significantly accelerate" in September. That conspicuously coincides with Apple's iPhone keynote, which has yet to be announced but has regularly occurred that time of year. The disclosure of a bigger-than-expected order of sensors suggests they are being incorporated into both the rumored budget model (often referred to as the iPhone 9) as well as the more upscale iPhone X Plus.
Why Apple Is Ramping Up Face ID
It seems particularly likely the new orders are related to Face ID. According to the company, the component seeing the highest boost in demand is Lumentum's vertical-cavity-surface-emitting laser (VCSEL), the exact component that embeds augmented reality and facial recognition capabilities into the iPhone X.
There's other evidence that Apple is committed to expanding the world of devices that comes with facial scanning technology, even hints that Apple might bring Face ID to upcoming iPads as well. Even if the feature is more expensive to include than traditional Touch ID or passcodes, grooming customers to expect the feature may help the company induce a kind of network effect that keeps people hooked on Apple's ecosystem.
The majority of rumors thus far have indicated that Apple will release two 6.5 and 5.8-inch OLED phones and a cheaper 6.1-inch LCD device. Because of its cost-cutting measures, there was some doubt that that latter would come with Face ID, since it will likely be marketed as more budget-friendly. However, reports have claimed that the next-generation smartphone will use a more cost-effective LCD display and only come with one rear camera to cut costs, freeing up Apple to spend more on other coveted features.
Taken together, it's hard to escape the conclusion that Touch ID might be on its way out completely, possibly as soon as September.