Analyst Reveals Why Future iPhones May Ditch Face ID
There's something better on the way.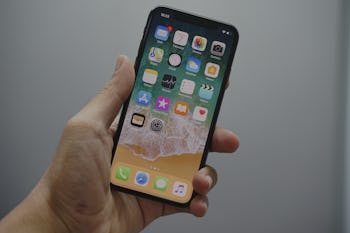 Unsplash / Bagus Hernawan
Face ID: here today, gone tomorrow? Apple's face-sensing technology that debuted in the iPhone X last November seems advanced, but one analyst thinks under-screen fingerprint scanners will win the day. Ming-Chi Kuo, a KGI Securities analyst with a strong track record of predicting company moves, sees the unlock method as hitting the market early next year.
"We recognize that under-display fingerprint recognition is key for full-screen designs, and we don't think that facial recognition can fully replace fingerprint recognition," Kuo wrote in an analyst note published by MacRumors on Friday. "For these reasons, we remain positive on this technology over the long term."
It's a strong endorsement from an analyst who has proven results in the past. Kuo correctly predicted the iPhone X would feature an OLED screen, as well as correctly predicting it would feature stacked internal components to fit two batteries in an L-shape.
Saying goodbye to a feat of engineering may be a tough pill for Apple to swallow, and public comments suggest it has no intention of doing so in the near future. The TrueDepth sensors contained in the screen's notch are basically a miniature version of a Microsoft Kinect. Designer Jony Ive revealed in an October interview that the company was working on the phone for around five years, building prototypes in the process. Ive has also described the phone as a "new chapter" in the company's history.
Other smartphone makers have experimented with under-screen fingerprint scanners. Vivo launched such a device last June, using a Qualcomm scanner that can hide under OLED screens up to 1.2 millimeters thick.
However, Kuo's report notes the technology still has some teething problems that have held back adoption. Screen protectors are an issue, as is power consumption. The analyst sees it as unlikely that Samsung's upcoming Galaxy Note 9 smartphone will include an under-screen sensor when it debuts toward the end of this year:
While we previously predicted that Samsung's new flagship Galaxy Note 9, due out in 3Q18, will come equipped with an under-display fingerprint recognition function, we now believe Samsung will cancel this feature on Note 9 because both ultrasonic (provided by Qualcomm) and optical (provided by Samsung LSI, Goodix, Egis, and Synaptics) solutions cannot meet Samsung's technical requirements.
Perhaps Face ID will hold on for longer than it may first seem.