Apple Designer: iPhone X Starts a 'New Chapter' With More to Come
Jony Ive sees the iPhone X as the future.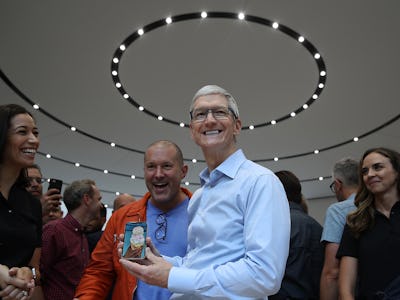 Getty Images / Justin Sullivan
Sorry, home button fans — it looks like the iPhone X's design is here to stay. The $999 smartphone, due for release November 3, represents a "new chapter" in Apple's history. That's according to chief design officer Jonathan Ive, who suggested in a magazine interview that the phone's face scanner and large display could form the basis of future flagship phones to come.
"Instead of one ending of the iPhone, it is rather a new chapter and the beginning of its development," Ive told Japanese-language publication Casa Brutus in a story published Tuesday.
Ive also described it as a "wonderful coincidence" that the phone launched 10 years after the original iPhone. When Steve Jobs took to the stage at the 2007 MacWorld event, the device he unveiled stood out for its use of a multi-touch interface, a feature that would grow to become standard in the smartphone industry. When it unveiled the iPhone X, Apple suggested that it would have a similar effect on the industry.
"The first iPhone revolutionized a decade of technology and changed the world in the process," CEO Tim Cook said at the phone's unveiling last month at the Steve Jobs Theater. "Now, 10 years later, it is only fitting that we are here, in this place, on this day, to reveal a product that will set the path of technology for the next decade."
The iPhone X stands out from its predecessors by ditching the home button and fingerprint scanner in favor of a gesture-based user interface and a face recognition scanner. However, there has been some skepticism around whether the new device unlock system is up to the task, after it appeared not to register an Apple vice president's face during a live demonstration. The company explained in a subsequent statement that the system did not authenticate as a number of people handled the device before the start of the show, causing it to request a password as a precaution.
Pre-orders for the new phone are set to begin October 27, with Apple offering a 64GB version for $999 and a 256GB version for $1,149. Customers will have the option of a silver or space grey back.
If you liked this article, check out this video of a temporary tattoo that can control your phone.