Watch Apple's iPhone X Face Scanner Fail at First Public Demo
Craig Federighi probably didn't expect this.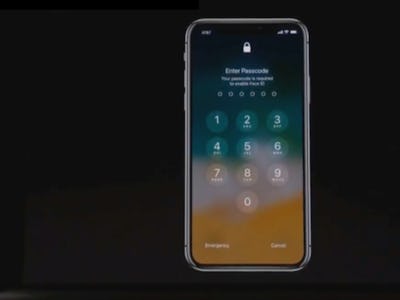 Perfect & Joe/YouTube
The iPhone X's big new face recognition feature had a bit of a rocky debut. The $999 phone replaces the tried-and-tested fingerprint scanner with a system that unlocks the device when the user is looking at the phone with their eyes open. Apple claims the Face ID system is more secure than Touch ID. When Craig Federighi, Apple's senior vice president of software engineering, went to demonstrate the feature for the first time on Tuesday, it didn't quite go according to plan.
"Here is iPhone X," he told the audience at the Steve Jobs Theater in Cupertino. "Unlocking it is as easy as looking at it and swiping up."
The first time he tried this move, the phone went dim. It appears Federighi accidentally turned the display off rather than unlock the phone. No bother, try again.
Federighi looked at the phone and swiped up. The device failed the recognize him and instead asked for a passcode.
"Ohohoho," he said, before switching to a backup phone and continuing the demo.
Watch the moment here:
There's some dispute over what exactly happened. One post on Reddit, "FaceID fails on the first try in Apple event," has over 5,000 upvotes, while another post, "Fact: Face ID did not fail for Federighi," has over 2,000 upvotes.
The question is why the phone refused to grant Federighi access. The reason some people think that it didn't fail is because, with the current Touch ID system, the phone prompts for a passcode the first time after it's restarted. It's only with subsequent unlocks that users can unlock with their fingerprint.
The problem with that theory, though, is Touch ID shows two different error messages depending on the situations. If it's asking for a passcode because the phone was restarted, the prompt will read "Touch ID requires your passcode when iPhone restarts." If it wants one because it's disabled the fingerprint scanner from too many attempts, the message will read "Your passcode is required to enable Touch ID."
Federighi's phone said "Your passcode is required to enable Face ID." That suggests the phone did indeed fail, but it's not clear why. Maybe the phone took too many face readings during setup, or it couldn't get a clear reading on Federighi's face.
Tim Cook, Apple's CEO, claimed that there's a one in a million chance the face recognition scanner would unlock with the wrong face. The tradeoff, it seems, is that sometimes the scanner refuses to authenticate altogether.
Update 09/14 6.45 a.m. Eastern: A representative from Apple told Yahoo News that the feature worked as intended. "People were handling the device for stage demo ahead of time and didn't realize Face ID was trying to authenticate their face," the rep said. "After failing a number of times, because they weren't Craig, the iPhone did what it was designed to do, which was to require his passcode."