Vivo Just Beat Apple to Demo the iPhone 8's Biggest Feature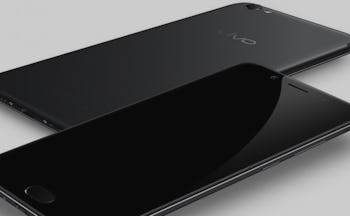 Vivo/Twitter
Chinese smartphone manufacturer Vivo may have beaten Apple in its quest to hide the fingerprint scanner under the screen. The next iPhone, expected to launch later this year, is rumored to use a futuristic scanning technology so Apple can remove the home button from the front and bring the screen closer to the phone's edges. On Wednesday, Vivo demonstrated a prototype phone at Mobile World Congress Shanghai that uses a scanning technology similar to the one rumored.
"The demo started off with a familiar fingerprint registration process, except I had to place my finger on a marked area on the screen, which was just above the old fingerprint button," Engadget reporter Richard Lai said in his hands-on review. "Once done, I was able to unlock the phone by touching that same spot using my registered finger; and just to be sure, I tried with my other fingers which fortunately failed to unlock the device."
The scanner, developed by Qualcomm, uses ultrasonic technology to hide the scanner under OLED displays up to 1.2 millimeters thick. This sends a pulse through the finger, some of it absorbed and some bounced back depending on the finger's shape. A sensor is used to detect these variations and build up a fingerprint.
For the 10th anniversary of the iPhone's existence, Apple is rumored to release a phone that uses a similar under display system. The iPhone 8 has been leaked numerous times, and while there's been a general consensus in rumors that Apple wants to hide the scanner, there's been some disagreement over how it will achieve this.
A report from May indicated the iPhone 8 may use an optical scanner, which would shine a light and record an image of the print. These are easier to trick, though, meaning it would be a step back from the current capacitive scanners that run electrical pulses when the finger is rested on the home button.
Qualcomm's release suggests ultrasonic technology represents a promising way forward. The company plans to release the scanner in two waves. The first wave, which will only scan fingers pressed against metal and non-screen glass, will start shipping to manufacturers this month, but the iPhone-beating display scanners will only start commercial sampling in the fourth quarter of this year.
Vivo may have a working prototype, but it may need some refinement before launch. Liu reported that the scanner was "noticeably slower," taking around one second to register. And although the technology allows for a scanner that covers the whole screen area, Vivo's prototype could only scan fingers in a very small region.