Report: iPhone 8 to Feature Hidden Optical Finger Scanner
Is this how Apple plans to hide the fingerprint scanner?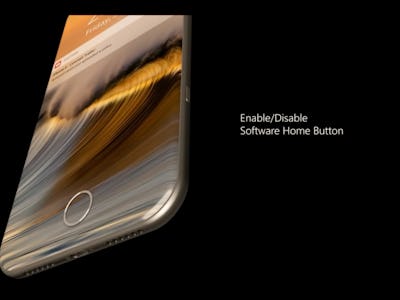 World Review/YouTube
A new report released Friday suggests that Apple's upcoming iPhone will use optical finger scanning technology to hide the home button underneath the screen. The rumored iPhone 8 launch, set to take place in the tenth year of the product line's existence, is set to redefine Apple's smartphone with a number of innovative changes that will encourage long-time owners to upgrade.
The report from Economic Daily News (translated by DigiTimes) cites sources from Taiwan Semiconductor Manufacturing Company, TSMC for short. The firm is an important supplier for Apple, having produced the processors for the past three iPhones. TSMC claims the iPhone will use optical fingerprint scanning to enable a user to place their finger directly onto the screen to unlock the device, instead of the current system where the user scans their finger with the home button below the screen.
Authenticating with a sensor under the screen will enable Apple to remove the home button entirely, something Android device makers have struggled to do. The Samsung Galaxy S8 moved around the engineering conundrum by simply placing the scanner on the rear. This allowed the company to produce a phone with a larger screen on the same device size, but makes for a rather awkward user experience.
But the Galaxy S8, and the current iPhone, use capacitive scanning over optical scanning. Capacitive scanning measures electrical conductivity through a fingerprint to "read" the ridges, where optical scanning shines an LED to capture an image of the print. Capacitive scanners are expensive and can wear out over time, but optical scanners are easier to trick. If it means getting the scanner under the screen, though, Apple may switch to optical.
The report also claims that Apple will take the opportunity to change the screen aspect ratio from 16:9 to 18.5:9. This chimes with previous rumors that suggest the iPhone will have a 5.8-inch screen on a phone a similar size to the current 4.7-inch device. A dummy model that leaked earlier this week showed how this will look in practice:
Alongside a hidden scanner and new screen, the report claims the phone will use invisible infrared image sensors to improve the camera quality and enable augmented reality applications. This is an area CEO Tim Cook has expressed interest in before, so the new device could represent Apple's first conscious shift into making hardware designed for virtual worlds.
These technologies sound exciting, but they could come at a price — one report suggests the phone could cost over $1,000.