Tim Cook's Plans for Augmented Reality Could Change Your Life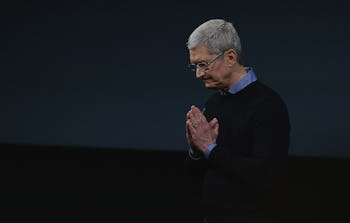 Getty Images / Justin Sullivan
Apple is reportedly working to bring a number of features to the iPhone and eventually develop wearable, wireless glasses that display content in augmented reality.
Tim Cook, the company's careful CEO, is all in on A.R. and said it will surpass virtual reality — heralded as the next big for about thirty years — with a quickness (ideally via Apple products, naturally). Cook's said he hopes AR experiences and routine are as common as eating three meals a day. It's that sort of massive shift that that Cook is forecasting.
"There's virtual reality, and there's augmented reality," he said in September. "Both of these are incredibly interesting. But my own view is that augmented reality is the larger of the two, probably by far."
And this week, sources speaking to Bloomberg claim that Apple has hundreds of engineers working on the project. Some of the ideas suggested for the iPhone include a camera app that can change the focal point of the image after it's been taken, and a Snapchat-style set of filters that overlay objects onto people.
It may not sound too groundbreaking, but these features would lay the foundations for a future A.R. platform. Mike Rockwell, a former head of new technologies for Dolby, was hired to head up the team behind these efforts back in 2015. The company is using a multi-disciplinary approach to work out the best ways to use the technology.
"I think that things like these are better when they're incorporated without becoming a barrier to our talking," Cook told Buzzfeed News Japan.
But even without an official solution from Apple, augmented reality has made an impact on the iPhone. Snapchat filters are wildly popular, with companies paying for sponsored filters, while the success of Pokémon Go gave creature catching a new dimension.
As the iPhone offerings develop, Apple may enter into the hardware space with a wearable offering. The company will need to tread carefully, though, as previous efforts have been somewhat lackluster. Google Glass, first released in 2013, brought a heads-up display to wearers in the form of a sleek headband, but they looked kinda weird and gave rise to the term "glasshole." Microsoft's HoloLens, on the other hand, has found a warm reception from industry professionals, but its sheer size means it's less suitable for casual wear.
A simple, elegant solution could penetrate the mass market in a way that HoloLens, or even virtual reality kits like Oculus, have so far struggled to do. Cook seems to believe the casual nature of augmented reality, where the wearer can still see people around them, could make it an easier sell. An initial step into the area through added iPhone features could be a good way to gauge public reaction.