This iPhone 8 Dummy Hands-on is the Coolest Apple Leak in Years
You won't want to miss this.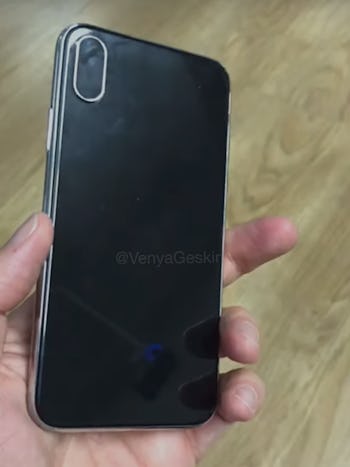 YouTube/iVenyaWay
Apple's next iPhone may be one of the most anticipated launches from the company in years, and a new video reveals exactly why that is. Rumors claim that the "iPhone 8," set to launch ten years after the original iPhone, will offer a premium package with groundbreaking features like a fingerprint scanner hidden underneath the screen and a new OLED display technology.
On Tuesday, gadget leaker Benjamin Geskin posted a YouTube video demonstrating a dummy version of the upcoming device. The object, which resembles the device shown in leaked schematics, is not a prototype and does not function as a phone at all. The leak gives a glimpse at how some of the rumored features would look in a final device, and it looks incredible.
The home button is set to be removed, in place of a fingerprint scanner hidden underneath the screen. This will mean more screen space on the same size device. But the leak shows that not only will the move grant more screen space, it will also create a sleeker-looking device when switched off. 
Geskin tells Inverse that this is a Chinese made dummy that could potentially be used by case manufacturers to ensure their cases fit ahead of time. Case makers usually prepare for upcoming devices ahead of time, sometimes with disastrous results: iPhone-making factories leaked schematics for a supposed device launching in 2011 with a teardrop-shaped design in a bid to garner future business from the case makers. Unfortunately, Apple never launched a teardrop-shaped iPhone, and case makers were left with piles of stock for a nonexistent phone.
It's possible that the dummy does not represent the final product, but many features on display also correlate with previous leaks. As well as the lack of home button, the dummy shows a vertical dual-lens camera arrangement, in keeping with other rumors, as well as a reduced bezel with the phone speaker placed closer to the top edge.
We may only have to wait a few more months to find out if these rumors are true. Geskin claimed on his Twitter page Thursday that the next iPhone launch event will take place on September 17, going on sale September 25. This would correlate with previous years, where Apple has announced the new device at a fall event and released it to customers in the following weeks.
View the leaked dummy below: