Here's Why the 10th Anniversary iPhone Will Be Awesome
The first decade was just the beginning.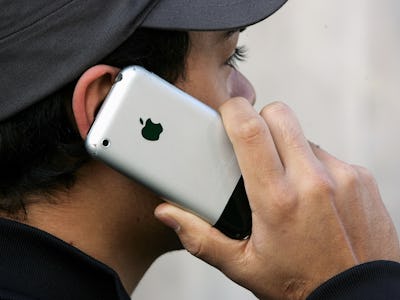 Getty Images
On this day, ten years ago, Steve Jobs took to the stage at MacWorld and stunned the media with the announcement of the iPhone. It feels like that big reveal was only yesterday, but in that time, Apple has gone from strength to strength and in the process brought smartphones to the mainstream. But like most companies in tech, Apple is looking to the future, and if recent reports are to be believed, Jobs's project has a bright future ahead. Here's what rumors suggest Apple might bring to this year's iPhone.
Wireless charging — No, not the Android-style system where users place the phone on a charging mat. We're talking proper wireless charging that works like wifi. There's a number of companies working on the technology, and public demonstrations have proven that it's entirely feasible. Energous is rumored as working with Apple on implementing wireless charging into the iPhone. It's possible the company will push for a 2017 launch, in time for the phone's anniversary release, but as with most things in tech, nothing's certain until it's actually in consumer hands. Still, with the potential to end battery life anxiety for good, this is possibly the technology that's going to revolutionize the iPhone most.
DSLR-style camera — The iPhone 7 Plus took a leap towards professional photography by using a dual camera system to measure the distance from a subject, then blur the area around them to simulate the look of high-end DSLRs. But the iPhone 8 may take this further, with dual vertical cameras making their way to all iPhone models. It's unlikely that Apple will catch up to the pros in one phone generation, but it only needs to look "good enough" to most people to rival the prosumer market.
OLED screens — OLED was a big deal at this year's Consumer Electronics Show (CES), and there are rumors that Apple is set to make the jump. The company already uses OLED screens on its Apple Watch: thanks to the localized lighting, a black pixel appears totally switched off, giving the deepest possible blacks in user interfaces. Design head Jony Ive has also expressed his adoration for the technology, and rumors are predicting the 2017 iPhone will feature OLED.
Curved screens — With Samsung proving that curved screens are, in fact, a good idea, it's probably little surprise that rumors are surfacing Apple wants in on the action. OLED's flexibility would allow Apple to curve the screen around the edges, placing a larger screen on a phone that feels smaller in the hand. A 5.8-inch iPhone, where the screen wraps around the sides, is rumored for either this year or next.
Futuristic glass casing — Ok, so an all-glass iPhone sounds like an accident waiting to happen, but it might not be as terrible as it first seems. Apple has an exclusivity partnership with Liquidmetal, a futuristic material that's extremely tough and rather bouncy. It's also possible that current "all glass" rumors actually refer to Liquidmetal, as some sources class the material as a glass. The material's ability to let through radio waves would help support the upcoming wireless charging feature, and KGI Securities' Ming-Chi Kuo has gone on record predicting an "all-glass" 2017 iPhone.
Hidden fingerprint sensors — Apple sort of removed the home button with the iPhone 7, replacing it with a pressure sensitive pad, but rumors predict that the next iPhone will hide the button under the screen. The idea is that users will authenticate their thumbprint by placing it on the screen, instead of on the area below as they do now. This would allow for a screen that stretches as close to the bezel as possible, which in real life will look stunning.
Even faster processors — It probably goes without saying that the next iPhone will probably be faster than the last one, but it's worth remembering what that means. Apple has been making great strides with its Ax series of processors, and that momentum has led to performance boosts that rival laptops from only a few years ago. The day that your smartphone is as fast as your computer is practically here, and it'll be exciting to see how this equalization in performance carries over into new and exciting applications. Bring on the next 10 years.