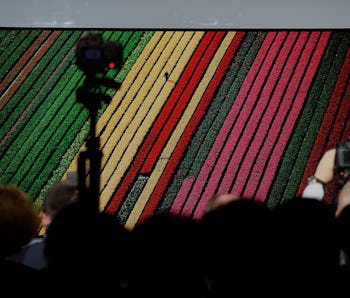 Innovation
What's Up With OLED? The TV Technology is Causing a Storm at CES
It's a technology that could be in your home in a few years.
Getty Images / David Becker
This year, TV makers sent this message: OLED is the future. Once reserved to tiny smartphones and high-end super TVs, big-screen makers are pushing the technology (which stands for organic light-emitting diode and is pronounced "oh-led") in flagship models, where high-end features make their debut. The expectation is that OLED TV's will expand to mass adoption in the coming years.
In Las Vegas this week during the media days ahead of CES, LG unveiled the ultra-flat "W" TV series, which included ten models, all just a mere 2.57 millimeters thick. Similarly, Sony took the wraps off three OLED TVs with eight million pixels, and Panasonic announced its first OLED display, the EZ1002. Before now, LG was the only big-screen maker in the game, and its four-digit price tag made it an unreasonable purchase for many. (It's still the only company that can produce the technology on a large scale.) One thing's clear: the mood is changing around OLED.
So what is OLED? It's all about using organic material to produce electric light. Electrodes sandwich the organic material and activate the pixels when needed, shining the light through one of the transparent electrodes. Although scientists have explored the idea for decades, it wasn't until the late 1980s when Eastman Kodak created the first viable implementation of the tech.
There are a lot of reasons why OLED is the way forward. Its design means it doesn't need a bulky backlight, so it's thinner and requires less energy. It also means, as each pixel is responsible for its own light, black really means black. Not a gray, I-can-still-tell-when-the-TV-is-on sort of compromise, but actual black.
Apple's design guru Jony Ive is a notable fan of the tech: when it debuted in 2015, the Apple Watch used an OLED screen to make it look like the on-screen elements are floating in space, blended in with the bezel. Where on an iPhone, images are surrounded by dark yet illuminated pixels, the Apple Watch's images almost feel part of their appeal as jewelry. Ive told the New Yorker that, if he had used an iPhone-style LCD screen, it would have had 'much less magic.'
It's not just tiny screens seeing the benefits. Across the smartphone market, OLED displays have slowly made their way across the spectrum, with Samsung, Google, LG, Nokia, and Motorola all producing phones with the screens. Apple, who has yet to make the jump, is expected to do so later this year.
Now these smaller screens have established themselves, the market is set for expansion as more manufacturers invest in the tech. J. P. Morgan sees growth for the industry in 2017, predicting it will be worth $20 billion. IDTechEx predicts a market growth to $57 billion by 2026, pushed by plastic and flexible displays that will enable new form factors.
These imaginative displays are the future of OLED. Panasonic has already produced an OLED prototype that turns invisible when off. The screen could get built into a glass cabinet, becoming completely transparent when not in use. Flexible screens could create roll-up phones, like the Nokia Morph concept from 2008. Today, LG and others are producing ultra high-end displays for the mega-rich, but tomorrow, those same advancements could bring about gadgets previously unimaginable. Bring it on.