Everything We Know About the Apple iPhone 8
It's looking like one of Apple's biggest releases in years.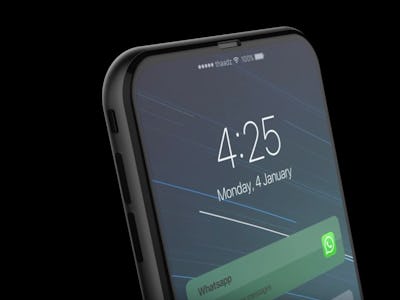 ConceptsiPhone/YouTube
Apple has branched out into a number of product lines over the past few years, but there's no denying the iPhone still reigns supreme. Few other products command our attention as much as Apple's smartphone, now in its 10th year of existence. It looks like the Cupertino-based tech giant is preparing something extra-special for the next iPhone.
It's been rumored for a while that the iPhone 8 would be a revolutionary product. Even before the iPhone 7 was announced, reports were coming out that the 2017 model was the one that was really going to blow everyone away. Fully wireless charging, an OLED display, a virtual fingerprint sensor, and a glass body have all been rumored as making an appearance in the next device. Here's the latest on what we can expect.
Updated April 24, 2017
Several designs have been released online, all claiming to be the next iPhone. One set of schematics, released Monday, appears to confirm the iPhone 8 will have a vertical camera arrangement:
Another leak shows three photos of a dummy version of the iPhone 8. If real, it seems Apple is considering switching to a reflective chrome design for the real casing:
September can't come soon enough.
Updated April 13, 2017
A leaked design has surfaced, and it's kind of a letdown. A new image posted to Weibo shows schematics for the rumored iPhone 8. Instead of a fingerprint scanner embedded under the screen as some rumors suggest, this image shows the home button moved to the back in a similar design to the Samsung Galaxy S8:
It's not quite as impressive as other rumors may have suggested, but it would bring a reduced bezel to the iPhone using more commonplace technology.
A new report from Cowen and Company analyst Timothy Arcuri released Wednesday claimed that all three iPhones will have a Lightning connector, plus a USB-C cable that will enable even faster charging. Arcuri also said that the phones would come with an increased 3GB of RAM. You know how sometimes switching from one Safari tab to another causes it to reload the page? More RAM will help stop that.
Updated April 6, 2017
Remember when Nikkei said two days ago that Apple has ordered 70 million OLED screens? That could be the low end of a scale, according to Korean news reports translated by DigiTimes, with supplier Samsung ready to ship up to 92 million displays this year. Apple ships around 200 million iPhones every year, so that means around 30 percent of iPhones sold this year are expected to come with the screen. It's especially impressive considering the phone's not meant to launch until September, and Apple is expected to launch two other iPhones with LCD screens this year.
Updated April 5, 2017
Has the iPhone 8 been delayed? Possibly. A new report from Economic Daily News, translated by CNBC, suggests it might be. Technical issues relating to the new OLED screen apparently may cause the device to launch in October or November, rather than September as expected.
Updated April 4, 2017
Apple is planning for a big launch. Nikkei reports the company has placed an order for 70 million OLED screens. The report also backs up previous rumors that the phone will have no home button, while also claiming that all three phones launched this year will feature wireless charging.
Updated March 24, 2017
The 5.8-inch iPhone 8 will launch in September, according to a new Barclays analyst report. But while it may hit store shelves around that time, don't expect to get your hands on one right away. The firm is warning that the majority of stock may not be available until later in the fourth quarter.
Updated March 21, 2017
Ahead of the iPhone 8 launch, Apple has made some minor tweaks to its smartphone lineup. The entry-level iPhone SE had its storage capacities bumped from 16GB and 64GB to 32GB and 128GB respectively, while the iPhone 7 and iPhone 7 Plus are now available in red. It's possible that the red color option will return for future model launches.
Updated March 20, 2017
Before the iPhone 8 is unveiled this year, a new report suggests Apple wants to bring augmented reality features to the platform. Highlights include a camera that could change the focus of an image even after it's taken, or Snapchat-style filters. If true, they will probably look great on the OLED screen.
Updated March 15, 2017
Designer Vianney le Masne published a new video on Saturday that brings together prior rumors to visualize what the next iPhone may look like. The video focuses on the OLED screen, which produces far deeper blacks than the LCD screens used in current iPhones. The bezel blends into the black background, as in OLED screens a black pixel shuts out artificial light to merge with the darkness.
Updated March 14, 2017
A growing number of outlets are claiming that the iPhone 8 will not have a curved screen. Instead, MacRumors claimed in a story published Friday that the next iPhone will use a flat OLED screen owing to its considerably lower costs, while possibly curving the glass itself like on the current iPhone lineup.
Updated March 9, 2017
A new concept of what the iPhone 8 looks like has been doing the rounds, and it looks incredible. Graphic designer AlHasan Husni has combined a number of rumors into his design, including the virtual home button with a fingerprint scanner and an interface that takes advantage of OLED's deep blacks. We'll have to wait and see if this is how the phone will look, but a number of these ideas have surfaced in news reports before.
Updated March 8, 2017
The all singing, all dancing "iPhone 8" may end up with a slightly more luxury name. Mac Otakara reports that the premium version of the iPhone may be called the "iPhone Edition," a name that echoes the premium tier Apple Watch. You could be waiting a while, though: while the outlet states that the iPhone 7S and 7S Plus will launch along with the Edition at Apple's September event, the premium model may arrive quite a bit later than the other two.
Updated March 7, 2017
Apple's stock is soaring, in part because analysts think the iPhone 8 is going to be massive. In notes obtained by MacRumors, BMO Capital Markets analyst Tim Long thinks the launch will be "the best launch since iPhone 6." He expects that when Apple holds its expected September event to announce the premium new device, 31 percent of iPhone owners will have a phone that's two years old or more, and that in December 2016 there were around 715 million iPhones in use around the world. That means there's a serious amount of customers out there waiting to upgrade, and analysts believe the iPhone 8 could answer their calls for something new and revolutionary.
Updated March 6, 2017
Another outlet claims the iPhone will launch in three models this year. Nikkei reported on Sunday that there will be three models this year, two with standard liquid crystal displays and one 5.8-inch model with an OLED screen.
Updated March 2, 2017
The iPhone 8 will stick with the Lightning connector, according to KGI Securities analyst Ming-Chi Kuo. A previous story suggested Apple could switch to USB-C, more commonly found on Android devices, but Kuo said that the advantages would be somewhat niche. Instead, he expects to see fast charging capabilities, commonly found on competitor devices.
Updated February 28, 2017
The Wall Street Journal reports that the iPhone 8 will come in three models, two of which will use traditional LCD displays and one of which will use an OLED screen. But perhaps most interesting is the suggestion that the new phones will use USB-C instead of Lightning. The USB-C charging port is normally found on Android devices, but for the past five years Apple has used the proprietary Lightning port. Switching ports would mean iPhone users could use the same cable as their non-Apple friends, but it would also mean they couldn't borrow cables from friends with older iPhones.
Updated February 16, 2017
Ready to 3D-scan your face? JPMorgan analyst Rod Hall claims that in the iPhone 8, a laser scanner may either work alongside or replace the fingerprint scanner to unlock your phone.
Updated February 15, 2017
KGI Securities analyst Ming-Chi Kuo claims the next iPhone will have a 5.8-inch screen with a 5.15-inch main screen and a smaller area for virtual buttons. The phone itself will be a similar size to the current 4.7-inch iPhone 7, with the display reaching closer to the edges to more effectively use the device size.
Updated February 8, 2017
The 2017 iPhone is going to be expensive, according to sources speaking with Fast Company. We're talking "north of $1,000," at least $31 more than the current most expensive iPhone, the 256GB iPhone 7 Plus. It will reportedly have a 5.8-inch OLED screen, and it could be called the "iPhone X."
This article was originally published on March 1, 2017.