Apple Will Finally Deliver AirPower Wireless Charging by September: Report
Apple might have bit off a little more than it could chew.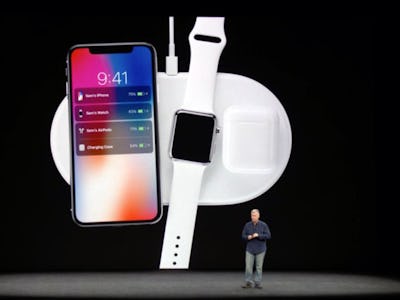 Apple
It's been almost a year since Apple announced it would begin selling the elusive AirPower wireless charger. Even now, iPhone users and Apple Watch aficionados still have to rely on third-party chargers to make use of the emerging technology. But that might change soon.
According to a Bloomberg report by established Apple insider Mark Gurman, the tech company is determined to bring the device to the market by September at the latest. Executives revealed that the device has faced delays because Apple bit off a little more than it could chew.
When the AirPower was announced alongside the iPhone 8 and X, Apple promised it would be able to charge three different devices simultaneously. Users would be able to drop their iPhone, Apple Watch, and AirPods on a thin, oval-shaped strip and watch them juice up. This major selling point has proved difficult to pull off.
Providing this seamless charging experience requires the company to cram the charging components of three different devices along with multiple charging sensors into a relatively small area. Seamlessly weaving all of these pieces into a single mat that works effectively is much easier said than done.
It's not like other other wireless charger manufacturers have been able to figure this out, either. To make it work, the AirPower will include a proprietary chip that will use a simplified version of iOS. Engineers that were interviewed have been tirelessly working on fixing the bugs this firmware is experiencing.
"Hopefully, Apple learns a lesson to only announce products that are for sure shipping soon or immediately after announcing," Ben Bajarin, an analyst at research firm Creative Strategies, told Bloomberg.
However, he said that while Apple is feeling the sting of angry fans after overpromising, these delays won't deal a detrimental blow to the company. The plan to transition all of Apple's hardware onto a totally wireless ecosystem is a long-term project, as opposed to something that takes place over a few months.
Better to have a polished product a few months late than a repeat of the infamous iPhone X keyboard glitch.