Why This 'Hilarious' iPhone X Bug Has Broken the Letter 'I'
Apple's iOS 11.1 update has an issue.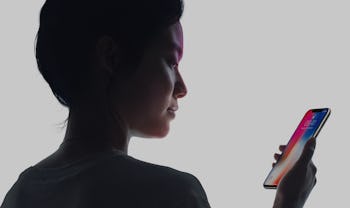 Apple
A new bug plaguing the iPhone X and other models has left users baffled. In devices running iOS 11.1, the new version of Apple's mobile operating system launched last week, some users have found the letter "I" autocorrects to a letter "A" followed by a symbol that normally looks like a box with a question mark. Fortunately, a solution is at hand.
The issue, Emojipedia reports, is caused by the fact that the letter is being appended with an invisible character, but this process has broken in Apple's latest update. "Variation Selector 16" is a character used to turn other characters into their emoji counterparts. For example, if you type the snowman character "☃" with the variation selector, it's meant to turn into the snowman emoji ⛄. All of this is meant to be automatic, and the user isn't supposed to see this taking place.
It's an embarrassing issue that comes just as Apple released the iPhone X to consumers on Friday. The new phone, according to chief designer Jony Ive, is expected to start "a new chapter" in the product's history. But buyers of the $999 phone, prompted to update soon after it switches on, may find this bug causes their shiny new smartphone to offer a less-than-stellar experience from the start:
There's an easy way to solve this issue, according to a new Apple support document:
Go to Settings > General > Keyboard > Text Replacement.
Tap +.
For Phrase, type an upper-case "I". For Shortcut, type a lower-case "i."
And that's it! It's a bit of a long way around, but it's the best solution until Apple releases another update to fix the issue. The company has already started beta testing iOS 11.2, so hopefully it shouldn't be too long before we see a release that rectifies the bug.