Apple Just Released iOS 11.1 Ahead of iPhone X Launch
The update brings a ton of new emoji.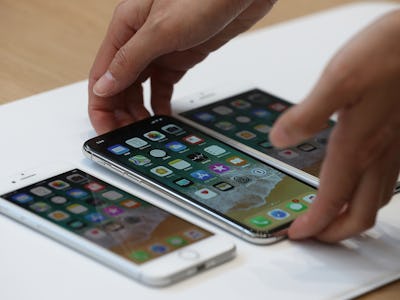 Getty Images / Justin Sullivan
Apple has released an update to iOS 11, just days before the iPhone X hits the stores. On Tuesday, iOS 11.1 became available to iPhone, iPad and iPod touch users as a free software update downloadable through the device's "Settings" app. Alongside bug fixes for key areas, the update brings over 70 new emoji.
It's been a big month for the company, which has launched the iPhone 8 and 8 Plus and plans to launch the iPhone X on Friday. iOS 11, the major software version that ships with all three devices, also launched as a free update for older phones.
The iPhone X, Apple's face-detecting, giant-screened smartphone, received its first previews on Tuesday, and reviewers have described its design as "exquisite," but questioned the accuracy of the Face ID security system.
The company has only given reviewers a short amount of time with the phones, some of them only getting a trial of around 18 hours, so the real litmus test will come when the phone hits consumer hands at the end of the week. Apple will need to squash as many bugs as possible before the big moment, which is what this new iOS update aims to do.
The 11.1 release also brings a ton of new emoji to the platform, which Apple previwed earlier this month. These include a new monocle face, a face with symbols over its mouth, and a shushing face:
The full release notes are available below:
iOS 11.1 introduces over 70 new emoji and includes bug fixes and improvements.
Emoji
Over 70 new emoji characters including new food types, animals, mythical creatures, clothing options, more expressive smiley faces, gender-neutral characters and more
Photos
Resolves an issue that could cause some photos to appear blurryAddresses an issue that could cause Live Photo effects to play back slowlyFixes an issue that could cause some photos to not display in the People album when restoring from an iCloud BackupFixes an issue that could impact performance when swiping between screenshots
Accessibility
Improves braille support for Grade 2 inputImproves VoiceOver access to multi-page PDFsImproves VoiceOver rotor actions for announcing incoming notificationsImproves VoiceOver rotor actions menu when removing an app from the app switcherFixes an issue for some users where alternative keys would not display when using VoiceOver with Touch TypingFixes an issue where the VoiceOver rotor would always return to the default action in MailFixes an issue where the VoiceOver rotor would not delete messages
Other improvements and fixes
Restores support for accessing the app switcher by pressing on the edge of the display with 3D TouchFixes an issue that caused cleared Mail notifications to reappear on the Lock screenFixes an issue in enterprise environments that prevented data from being moved between managed appsFixes an issue with some third-party GPS accessories that caused inaccuracies in location dataResolves an issue where settings for Heart Rate notifications were appearing in the Apple Watch app (1st generation)Fixes an issue where app icons were not appearing in notifications on Apple Watch
For information on the security content of Apple software updates, please visit this website.