The iPhone X Reviews are In: Exquisite Design, but Questions About "Face ID"
Apple's $999 smartphone is almost here.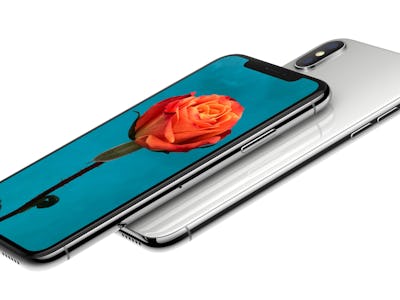 Apple
The iPhone X reviews are in, and the verdict is overwhelmingly positive. When Apple launches its $999 smartphone on Friday, it will start what head designer Jony Ive has referred to as "a new chapter" in the product line's history. Fortunately, it looks as if Apple has delivered on the hype, with a release that takes the iPhone in a big new direction.
"It really is like using the future of smartphones today," said Matthew Panzarino, in his video review for TechCrunch.
That's both a good thing and a bad thing. Face ID, the brand name for Apple's face detection system that replaces the fingerprint scanner, is cutting-edge technology. It uses a system similar to the foot-long Xbox Kinect, miniaturized down to fit alongside the top of the device, giving it the unique notch appearance. It fires an infrared beam at a user's face, before flashing 30,000 dots to take a measurement of the face. The camera captures all this and processes it to get a reading in milliseconds. The results are mixed.
"The good news is that Face ID mostly works great," Nilay Patel said in his review for The Verge. "The bad news is that sometimes it doesn't, and you will definitely have to adjust the way you think about using your phone to get it to a place where it mostly works great."
Unfortunately, most reviewers didn't get a lot of time to review the phone. The Verge only had their device for 24 hours, while Business Insider had just 18 hours. That means battery life is still unknown, and Face ID impressions vary from reviewer to reviewer. Patel, for example, claims the scanner doesn't work so well in outdoor light:
The message is clear, though, that the face scanner feels like the start of something big.
"It doesn't take much of a leap to imagine how the technology used to anthropomorphize emoji might appeal to advertisers that want to know where (and whether) you're looking at the screen during their messages," said Geoffrey Fowler, in his review for the Washington Post. "Apple's terms for app developers require permission before tapping into the camera, and forbid using face data for advertising — but we're just at the beginning for this technology."
Another major draw of this iPhone is it's the first to use an OLED screen. For a device around the same size as the iPhone 8, which packs a 4.7-inch screen, Apple has stretched the screen to the furthest top and bottom, removing the home button in favor of a new gesture-based system. This 5.8-inch screen, built by Samsung and custom designed by Apple, offers a contrast ratio of one to a million, versus the iPhone 8 that only has one to 1,300. In short, colors will look vibrant.
"It looks great: bright, extremely vivid without being over-saturated and punchily pin-sharp," David Phelan said in his review for The Independent. "No surprise on the last bit as the screen has a high resolution of 458 pixels per inch."
Much like Face ID, this new home button-less design requires a little bit of learning to get right. Swiping up from the bottom takes you home, swiping up a bit less takes you to the app switcher, sideways changes apps, and a downwards swipe activates the Reachability mode that helps you touch buttons at the top of the screen without repositioning your hand.
"It takes a little getting used to after 10 years of mashing a home button, but it eventually starts feeling natural," Steve Kovach said in his review for Business Insider.
However, reviewers caution that although it has a similar size screen to the 5.5-inch iPhone 8 Plus, not all of it is usable. Don't switch from your plus-size device to the X if real estate is paramount to you.
"This is not an iPhone 8 Plus crammed into the body of an iPhone 8," Jason Snell said in his review for Six Colors. "The iPhone Plus can fit more data on its screen, and more apps (including the home screen) will optionally display in landscape mode on the iPhone Plus. It's better to think of the iPhone X as having a slightly wider and quite a bit longer display. iPhone Plus users won't lose their cameras if they make the move to the iPhone X, but they'll probably feel a little bit cramped."
The camera packs largely the same specs as the iPhone 8 Plus, which launched earlier this month. A f/1.8 wide angle camera is paired with a f/2.4 telephoto lens, boosting the f/2.8 aperture on the 8 Plus telephoto. Unlike the 8 Plus, which only uses optical image stabilization on the wide lens, the X uses this feature on both for better low-light performance. Also unlike the 8 Plus, the cameras are in a vertical arrangement rather than horizontal.
"This, Apple has confirmed to Pocket-lint, is merely about cramming everything in rather than to improve anything performance wise over the iPhone 8 Plus and its landscape camera orientation," Stuart Miles said in his review.
It's hard to escape that price, especially considering the number of similarities to the iPhone 8 Plus. At $999 for a 64GB device, or $1,149 for a 256GB device, customers could spend $450 more than the base level iPhone 8 Plus. The two phones have the same superfast A11 Bionic processor, wireless charging features, wide color support, and similar cameras. Both support Portrait Mode for blurring the background of subjects, as well as the in-beta Portrait Lighting mode that adds a number of effects. Still, those that have tried out the upcoming iPhone X seem to agree that there's something special about it, something that make it feel like a slice of the future.
"There's nothing quite like the iPhone X," Lance Ulanoff said in his review for Mashable. "It looks and feels like a premium device. The first time I held it, I understood why it cost so much. It's exquisitely designed with premium materials that will get you noticed. And let's face it, that was at least part of the draw for the original iPhone."
Whether you're happy to spend a grand on having the latest and greatest is up to you.