Why Apple's 'Aggressive' Decision Will Slow iPhone X Deliveries
You may not get your phone until next year.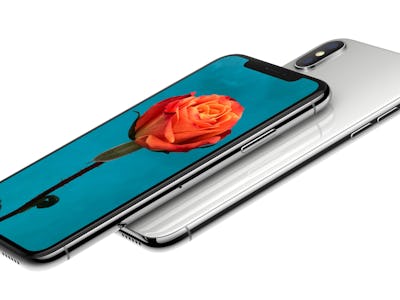 Apple
Apple gave itself a monumental task with the iPhone X: shrink the technology used in Microsoft's Kinect camera, to unlock people's phones using only their faces. That decision could come back to bite, though, as the company struggles to make enough phones ahead of the November 3 launch.
The depth-sensing Xbox controller, which first launched in 2010, enabled seamless detection of player movements by combining a camera, infrared projector, and grid-generating microchip. It was also about a foot long, though, and the iPhone X is just under three inches wide.
"It's an aggressive design, and it's a very aggressive schedule," an anonymous source familiar with the production process told Bloomberg in a Wednesday story.
See also: Here's What You Get When You Buy the iPhone X
Face ID, the brand name for Apple's scanning system, replaces the Touch ID fingerprint sensor. A front-facing flood illuminator shines infrared light, invisible to the human eye, onto a person's face. The camera picks this up, then activates a dot projector that flashes 30,000 dots at once, which enables the phone to decide whether the face matches. The phone's neural engine can perform 600 billion calculations per second to make a decision.
The manufacturing process has been tough, owing to the dot projector's miniscule design, and at one point only around 20 percent of dot projectors being produced were usable. Apple ultimately relaxed some of the specifications around the parts to meet deadlines, but it's unclear how this changed its functionality. Even with these changes, analyst Ming-Chi Kuo expects Apple to sell 30 million iPhones this holiday quarter, where last year it sold 78 million over the same period.
"That technology is something we've been working on for five years, and we had prototypes that were this big," Apple chief design officer Jony Ive told the New Yorker in an October interview, holding his hands about the same width apart as the Kinect.
While it's an impressive feat of engineering, the proof will come when reviewers get their hands on the device in the coming weeks. Apple claims the chances of a phone unlocking with the wrong face are around one in a million, compared to a one in 50,000 chance that someone else can unlock the iPhone fingerprint scanner.
"Now, of course, the statistics are lower if that person shares a close genetic relationship with you," Phil Schiller, Apple's senior vice president of worldwide marketing, said during the phone's unveiling. "If you happen to have an evil twin, you really need to protect your data with a passcode."
But the technology is still a new and unproven method for unlocking a phone. When Craig Federighi, Apple's senior vice president of software engineering, failed to unlock the phone during the on-stage demo, followers expressed concern that Face ID is not ready for primetime just yet. Apple later clarified that the phone was working as intended, requesting a passcode as it scanned so many faces that weren't Federighi's during the presentation setup.
For more on the iPhone 8, iPhone 8 Plus, and iPhone X, check out previous coverage, including: