The 14 Car Makes That Will Wirelessly Charge Your iPhone 8
Apple wants drivers to charge their phone automatically.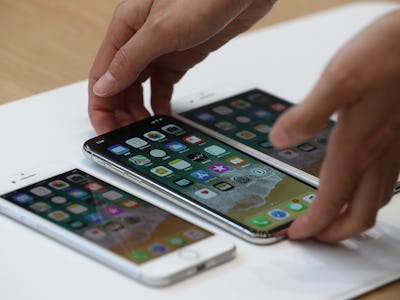 Getty Images / Justin Sullivan
Apple's next range of iPhones brings a much-requested feature that is going to make driving a breeze: wireless charging.
With the iPhone 8, 8 Plus, and X, the company now supports the Qi protocol, which enables drivers to drop their phone into a cradle and immediately start charging the battery, with no need to fiddle about with wires while out on the open road. On Monday, the company released an official list of car brands compatible with the feature, and it seems a lot of drivers will be able to take advantage straight from the word go.
While Apple's support document does not mention the iPhone X by name, it's expected to use the same charging system as its 8 and 8 Plus counterparts and should work with the same chargers. The list of car brands compatible with the iPhone 8 and 8 Plus charging system, according to Apple, is:
Audi
BMW
Chrysler
Ford
Honda
Mercedes-Benz
PSA
Toyota
Volkswagen
Volvo
On top of these, the charging system present in these cars should work:
2018 GMC Terrain
2018 GMC Yukon
2018 GMC Sierra
2018 Chevrolet Bolt
2018 Chevrolet Tahoe
2018 Chevrolet Silverado
2018 Chevrolet Suburban
2018 Cadillac Escalade
2018 Buick Enclave
Unfortunately, older models from these brands that feature wireless charging don't meet the Qi specification and won't work with the iPhone. That means 2017 and older model Buick, Cadillac, Chevrolet, and GMC vehicles with wireless chargers won't do anything for your device. Apple also advises that even if the vehicle is on the list, the large size of the iPhone 8 Plus may mean the device won't fit in the cradle. If in doubt, it's always best to check before purchase.
The phones switch out the aluminum backing of its predecessors in favor of a glass design that allows the phone to charge via the rear cover when it makes contact with a compatible pad:
It's a big moment for Apple, which until now has shied away from supporting universal charging standards. Drivers before now would have needed to ensure their car came with a 30-pin dock connecter or, in the case of the iPhone 5 and later, a Lightning connecter.
The feature will also pair well with iOS 11, the new version of Apple's mobile operating system released last month as a free update to existing devices. The upgrade, which ships on all devices, can detect when a phone is moving at a certain speed and turn off notifications. This stops drivers from diverting their attention from the road while in motion, while also ensuring that when the car has come to a stop the phone automatically starts playing sounds again.
If you liked this article, check out this video of a ball that can wirelessly charge your phone.