Why Apple Took So Long to Embrace Wireless Charging
Qi wireless charging arrives on Apple's smartphone.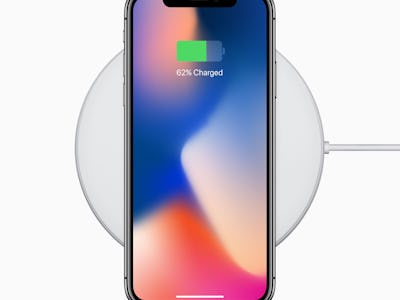 Apple
The iPhone X, finally revealed last week at Apple's slick annual event, will take a step toward curbing battery anxiety. The new smartphone, as well as two other iPhones the company revealed, support the Qi wireless charging standard. For the first time in the iPhone's 10-year history, Apple has ditched its requirement that users charge their phone with a company-designed connector.
"Words can't describe how much nicer it is to just put it down and pick it up whenever you want to charge, without ever having to plug in a cable again," Phil Schiller, Apple senior vice president of worldwide marketing, said at the Steve Jobs Theater in Cupertino. During the event, it was announced that the iPhone 8, iPhone 8 Plus, and iPhone X will be the first to support the wireless feature, and Apple stores will offer Qi (pronounced "chee") chargers from third parties like Mophie and Belkin.
Apple isn't just using Qi as-is, though. The AirPower mat, due out in 2018, will also charge the Apple Watch Series 3 and wireless AirPods through an extension to the standard. Pricing for the pad has yet to be announced.
Schiller, a high-powered business exec at Apple for 20 years, probably knows better that most how much nicer using an open standard is. Hunting around for the correct iPhone charger in a hotel room while you're on a business trip and you've left cable at home? Yeah, it sucks. What's perhaps most surprising is that it took Apple this long to realize it.
How We Charged Before
When the iPhone first launched in 2007, it used the same 30-pin dock connector as the iPod. At the time, when phones usually came with their own weird chargers, that was pretty cool. If you knew someone with an iPod, you could borrow their charger for your hot new future phone. It also meant an array of existing accessories like speaker systems, alarm clocks and car docks already worked with the iPhone.
That changed with Lightning. The eight-pin connector, introduced with the iPhone 5 in 2012, brought a number of new additions, like the ability to plug the cable in either direction and a smaller connector. At that stage, though, the original benefit had diminished.
At the time of Lightning's introduction, more phones had started using miniature USB cables instead, working to a single standard compatible phone-to-phone. Apple became an outlier, and their owners became the annoying people that would ask to "borrow a charger," with the caveat that it had to be "the right one."
Apple Enters the Fray
It's hard to escape the fact that Apple is playing catch-up, though. In the world of tech, Qi is relatively old. It's an open standard overseen by the Wireless Power Consortium, a group of over 200 companies founded in 2008 to agree on a common wireless charging method. The first smartphones to use the standard launched in 2011, and over 700 products use the standard today.
A dizzying array of over 70 smartphones use Qi. This includes the Samsung Galaxy S8, the LG G4, the Lumia 950 and the Motorola Droid Max. A larger list of phones can support Qi charging through optional add-ons.
Until recently, Apple appeared to be following a rather different path. Documents from 2014 show wireless power company Energous expected its products to undergo Apple compliance testing. Unlike Qi, the company's technology would work more like Wifi where devices charge from a few feet away from a base station.
In January 2016, Bloomberg reported that Apple was developing an iPhone with wireless charging capabilities for launch in 2017. The outlet claimed that the device may charge from further away than Qi-like charging mats, adding more fuel to the full charging rumors.
If this all sounds like something out of a sci-fi novel, that's because it might as well be. At the time of writing, this more ambitious form of wireless charging is not on the market. It is unclear whether Apple always intended to use Qi in the iPhone X, but its delayed entry into the realm of wireless charging suggests the company may have been holding out to see how Energous' tech developed.
How We'll Charge Next
When Schiller unveiled Qi support, Apple finally stepped forward and joined the rest of the smartphone world. The first products to use Qi will be the $699 iPhone 8 and $799 iPhone 8 Plus, starting at set for launch September 22. Pre-orders for the $999 iPhone X will start on October 27, and the phone will start shipping on November 3.
In February, Apple joined the consortium that regulated the standard. The company's support is a tad late, but it has some new ideas. AirPower, set for launch next year, will allow users to charge up to three compatible items efficiently on a single pad:
AirPower is a modification of the Qi standard. It can charge the Apple Watch Series 3 and upcoming AirPod wireless charging case, which are enabled for AirPower use but are not Qi devices, strictly speaking.
This could change, though. On stage, Schiller said that Apple will work with the consortium to bring the AirPower adjustments into the main Qi standard. This is unlike the adjustments to Bluetooth made by the AirPods, where Apple introduced new pairing technologies and lower latency but did not offer them to the Bluetooth consortium.
"The difference makes strategic sense," said Apple blogger John Gruber. "Apple wants to see inductive charging pads go mainstream, with public installations in restaurants, airports, etc. Apple would rather see those ubiquitous charging pads support all Apple devices, not just iPhones."
This is the same company that, just a few days ago, refused to sell an iPhone with a standard charger. Apple is late, but it's finally joined the party.
If you liked this article, check out this video of a ball that can wirelessly charge your phone.