Apple's Biggest AppleWatch Advances Revolve Around Fitness
Heart health is at the forefront of the new AppleWatch features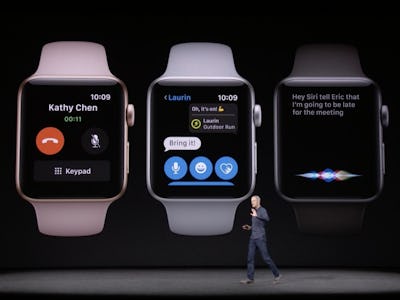 Apple
The AppleWatch was the first product to kick off Apple's new product launch event on the new Apple Park campus in Cupertino on Tuesday. Introduced by Apple COO Jeff Williams, the health and fitness-focused features announced immediately made clear how Apple is embracing smartwatch's function as a high-tech heart rate monitor. These special features for the new OS4 include those specifically geared towards swimmers, smart activity coaching, and a redesigned WorkOut app.
"It's the ultimate watch for a healthy life," Apple CEO Tim Cook said.
These announcements actually seemed to overshadow the buried lede of what makes this iteration of the previously flailing product more appealing: built-in cellular for the Series 3. Tellingly, the first example Williams used to explain the obvious reason this feature is a massive improvement was the convenience users going for a run will be able to experience now that they'll no longer be forced to bring both devices with them to go work up a sweat.
Though the AppleWatch is — according to Williams — the most popular watch in the country having officially beat out Rolex, one of its primary functions remains as a heart rate monitor. Which is why it's also — again, according to Williams — the most-used heart rate monitor in the world. And it's one that Apple customers' love. Williams bragged 97 percent customer satisfaction with the AppleWatch, not to mention stories that have circulated of users' claims that the watch has literally saved their lives.
In a recent Reddit post, one AppleWatch user and Afghanistan veteran explained how its read of his resting heart rate preceding cardiac arrest might have saved his life.
"Had it not been for my watch and my vigilance after the last incident; that day could have ended a whole lot worse I was informed by the doctors at the hospital," he wrote.
The AppleWatch OS4's updates to the Heart Rate Sensor seem specifically-designed to help those who may have health issues. Now, users will not have to navigate to see their heart rates, which will instead be displayed right on the watch face. It will also alert users if an increased heart rate is detected if they do not appear to be active. (While it's unclear how sensitive this feature will be, this addition may prove a good reason to keep your AppleWatch on silent if you're going on a first date.) The final improvement to the heart rate sensor is that it will come to automatically alert users experiencing irregular heart beats. An irregular heart rhythm, technically known as an arrhythmia, may feel like a skip or flutter, and can lead to atrial fibrillation. This is big news, because AFibs are often symptom-free and can lead to strokes. The Apple Heart Study, which will use data from the AppleWatch, was also announced in conjunction with Stanford Medicine and the U.S. Food and Drug Administration.