Here's What You Get When You Buy the iPhone X
Apple has bundled some accessories in the box.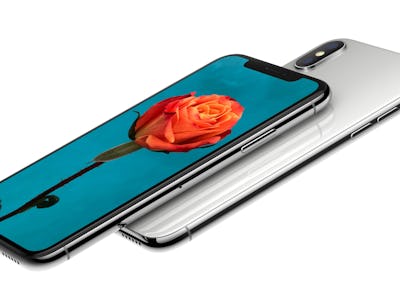 Apple
The iPhone X is almost here. On Friday, preorders for the $999 smartphone went live on Apple's website, with eager fans snapping up slots in a matter of minutes. There are still some ways left to get your hands on the device, but with the initial rush over, there's a bit more time to assess what comes in the box and what you might need to buy on top of that.
It's a big moment for Apple. Launching 10 years after the first iPhone came to market, the company's flagship smartphone ditches some key features that users have come to expect from an iPhone. For the first time, there's no home button, with users instead expected to learn a new swiping gesture to navigate the interface. An advanced face recognition scanner, which uses depth measurements to decide if a user is who they say they are, has reportedly slowed down the number of phones produced because of its advanced design.
Although a lot has changed, some things stay the same. Here's what comes in the iPhone X box:
The iPhone
This probably goes without saying. You get a choice of whether you want the glass backing to come in "space gray" or "silver." Internally, the device will either come with 64GB of storage at the $999 level, or 256GB at the $1,149 level.
EarPods
Apple's brand name for its own set of headphones, the EarPods, were modified with the launch of the iPhone 7 last year to use a Lightning connector instead of a 3.5mm headphone jack. While this means you can plug the headphones directly into the phone hassle-free, it also means you won't be able to use them with your computer or other devices. Still, best not to lose them as it means you won't need to bother with any adapters to listen to music.
Lightning to 3.5mm Headphone Jack Adapter
If you do want to use headphones with the traditional jack, Apple has provided a small cable with a headphone jack at one end and a Lightning connector at the other. Like everything else in the box, Apple sells this separately if you lose it.
USB Power Adapter
The five-watt brick included with the iPhone will charge your device from a wall outlet, but it won't do it particularly fast. If you can get your hands on a 12-watt Apple charger or some other higher-wattage power block, you'll be able to cut down charge times. Though, for overnight charging and the like, the bundled plug will do just fine.
Lightning to USB Cable
This is the bit that goes between the power adapter and the iPhone. Since it was introduced with the iPhone 5, it's grown to the point of near-ubiquity. However, those who have upgraded to the new MacBook Pro or other devices that use the new USB-C shape plug won't be able to use this cable without also using a USB-to-USB-C adapter.
Alternatively, Apple sells a Lightning to USB-C cable for cutting out the middleman. With this, you can pair it with the 29-watt USB-C power adapter to boost charge times even further.
Much like the power adapter, Apple has chosen to bundle an accessory that will do the job for most people.