These 4 New iPhone Emoji Will Cause Some Intense Arguments
Apple is set to release new emoji with iOS 11.1.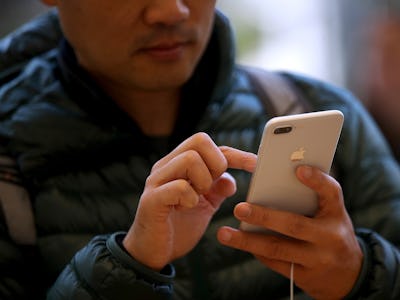 Getty Images / Justin Sullivan
Apple took the wraps off the new emoji set for the next iPhone update on Friday, and some of them almost seem like they were designed for arguing. The upcoming iOS 11.1 release, currently available as a beta to developers and public testers, will include "hundreds" of new designs, with 29 of them making their debut.
Of the ones unveiled, four of them are sure to make their way into internet discussions everywhere. These include "face with monocle," "face with symbols over mouth," "shushing face" and "crazy face." If past trends are anything to go by, these are going to get big, fast.
Ever since the 🤔 "thinking face" became part of the iPhone's catalogue, it's exploded in popularity as a way of effortlessly signaling that something is ridiculous. In December 2015, New York Magazine published an article about how the face has come to represent Jim Halpert, a character on NBC's The Office. In the show, Halpert regularly turns to the camera with a skeptical look when someone says something questionable. Know Your Meme describes the emoji as a way to "convey confusion or deep thought," and its entry has received over 100,000 views.
Here are the four new emoji:
It's easy to see how these could end up as one-symbol responses to arguments. The monocle face could represent an upper-class version of the thinking emoji, perhaps signaling that someone has said something particularly tone-deaf. Similarly, the shushing face emoji could become a signifier for "please stop" or "this argument is over".
Already, some people are predicting things are going to get bad:
Of course, Apple only designs the emoji, adhering to the descriptions published by the Unicode standards body. iOS updates provide support for these standards, but as each manufacturer comes up with their own designs, sometimes emoji look slightly different on other devices.
If Apple implements the whole Emoji 5.0 standard, released in March, it should mean that iOS 11.1 will include 239 new emoji (including gender and skin tone variations). Some of them might be missing, though — Emojipedia notes that Apple hasn't actually released all the emoji from the 4.0 standard, with the United Nations flag among those missing.