Apple Watch Series 4 Filing Drops Hints About Future Smartwatch
The wearable could get a big upgrade.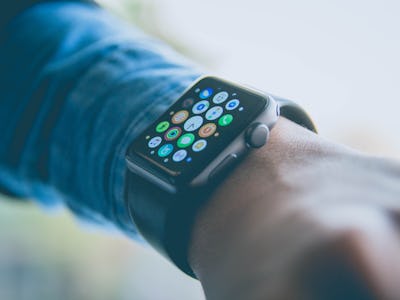 Unsplash / Alvaro Reyes
A new version of the Apple Watch is coming soon, according to database filings uncovered on Monday. Little is known about the potential upgrades to the company's wearables line, but previous rumors suggest a larger display and better heart rate detection.
The filings, discovered by Consomac and translated by MacRumors, show new model numbers filed with the Eurasian Economic Commission. The numbers, A1977, A1978, A1975, A1976, A2007 and A2008, suggest Apple will unveil six variations of watch. This is fewer than the eight models of the Series 3 watch currently on the market, with both 38mm and 42mm models available in aluminum without cellular, aluminum with cellular, steel and ceramic. While Apple could drop the non-cellular model as part of the upgrade, Consomac also speculates that Apple could drop the expensive $1,299 ceramic model dubbed "Edition" — which inherited the same moniker as its $10,000 solid gold predecessor when the second generation launched in 2016.
See more: Survey Reveals How Wearing an Apple Watch Could Boost Your Attractiveness
The Eurasian Economic Commission's database has a mixed track record for signaling product launches. A July filing showed five new MacBook model numbers, which suggested a new laptop was on the way. Less than a week later, Apple updated its MacBook Pro line with i9-equipped machines. Other filings have been less reliable: a series of iPad models around the same time, and an iPhone filing in April, ultimately amounted to nothing.
The Apple Watch has not revolutionized the world on the same scale as the iPhone (or, to a lesser extent, the iPad) but it has quietly cemeted itself as a leader in the wearables space. It's sold over 46 million units since its launch three years ago, and IDC found it was the top-selling wearables device of last year. The removal of the gold model and the addition of more workouts may suggest a change in strategy for the watch, but it's proven popular with consumers.
The commission filing also claimed the new watches will run watchOS 5. This is a new software update for existing watches, announced at WWDC 2018 for a fall release, that includes new features like better third-party app support and smarter "Siri Shortcuts."
The release could also prove an ideal time for single buyers to get a watch, after an August survey found 67 percent would find it attractive if their date was wearing a smartwatch.