New iPhone Models Revealed in Regularly Filings Show Possible 'SE 2'
Apple could wow with a smaller device again.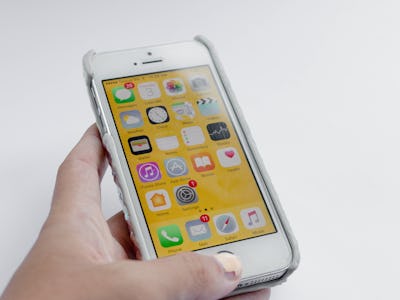 Flickr / wuestenigel
Apple may launch a cheap iPhone soon. A regulatory filing discovered in the Eurasian Economic Commission database on Wednesday shows 11 new model number entries for smartphones running iOS 11. As entries normally appear around a month before launch, and the company is unlikely to debut a new flagship model just seven months after the iPhone X hit stores, the entry suggests a new entry-level iPhone on the way.
The iPhone SE is something of a curiosity in Apple's lineup. The four-inch-screened phone debuted in March 2016 for $399, with a similar design to the iPhone 5S from three years prior, but with the same internal processor and other additions as the then-current 4.7-inch iPhone 6S. At a time when most companies were aiming for giant-screened phones with premium price tags, the SE was small, cheap and surprisingly powerful. The regulatory filing discovered by Consomac suggests that two years on, the company plans to again buck the trend by releasing a new phone outside of its regular fall lineup of flagships, perhaps by repeating the winning formula of the original SE.
There's plenty of opportunities for Apple to improve from the SE. Where the original SE had an A9 processor, the latest A11 Bionic chip offers on-device artificial intelligence and speeds comparable to a MacBook Pro from recent years. It could also inherit the 12-megapixel rear camera from the iPhone 8 that captures 4K video at 60 frames per second. While face recognition is a possibility, Apple has used the feature as a differentiator between the $999 X and $899 8 Plus, meaning its inclusion would be very surprising.
The big question is price. Apple dropped the tag on the SE from $399 down to $349, but it could go lower for the SE 2. UBS bank analysts Steven Milunovich and Benjamin Wilson said in a note last week that they expect the SE 2 to debut at just $300 while later introducing a large-screen X at $1,100. This would cover a far broader spectrum of the market.
As for when the phone will debut, Apple tends to announce its events a week or two in advance. The big exception is the annual Worldwide Developers' Conference, scheduled for June 4 that kicks off with an Apple keynote previewing the company's upcoming software.
Apple could soon remind the world that big doesn't always mean better.