The New Apple Watch Could Literally Save Lives With Its New Health Tools
New features could be absolute game-changers for healthcare.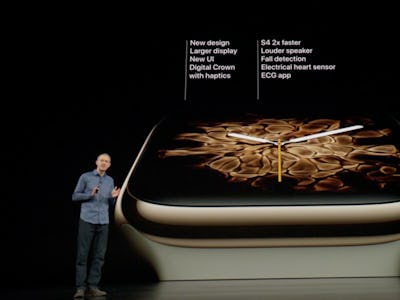 Every Apple fanboy and fangirl anxiously awaits Apple's big annual fall product event, and although the iPhone is usually the talk of the town, the Series 4 Apple Watch got a lot of attention this year — and rightfully so. A presentation about new features for the device kicked off the event, and emphasized not only the flashy new specs (Customizable display! Pretty colors!), but also its the new health features. And that's ultimately what deserve the lion's share of your attention because some of them could literally be life-saving.
The health and fitness aspects of the Series 4 Apple Watch were such a focal point that Apple had Dr. Ivor Benjamin, a cardiologist and president of the American Heart Association, come onstage to discuss some of them. Some of the most exciting new features of the Apple Watch include the ability to take electrocardiogram readings, and a new fall detection feature that, in certain situations, could prevent a very real tragedy.
Apple Watch Series 4: Electrocardiograms
For starters, users can now use their Apple Watch to take an electrocardiogram, or ECG, reading, thanks to an electrical heart sensor on the back of the watch. It's the first ECG product of its kind available over the counter to consumers, and Apple actually received FDA clearance for the ECG function.
All an Apple Watch Series 4 user has to do is open the app, then put their finger on the digital crown, and they'll get a reading and their heart rhythm classification in 30 seconds. The new smartwatch can even warn users of a heart rhythm that may seem too fast or too slow.
All recordings are stored in the health app, and can easily be shared with a doctor later in a PDF. Benjamin even said during the presentation that this could alter healthcare, and that the ability to capture "meaningful data about someone's heart in real time is changing the way we practice medicine."
Benjamin noted that patients will often make a doctor's appointment and report symptoms that are not actually present during that appointment. Accessibility to information about a patient's daily lifestyle and health could be extremely helpful in solving this problem. Depending on what the Apple Watch ECG feature captures about a user's overall heart health, there's a very real chance that even serious heart problems could be detected in a way that hasn't been seen before.
Apple Watch Series 4: Fall Detection
At first glance, the Apple Watch Series 4's ability to detect a fall may not seem all that impressive. But thanks to the gadget's gyroscope and accelerometer sensors, the device can now detect if a user has fallen, and if they are immobile for over a minute, the Watch will send messages to a user's emergency contacts or call emergency services. The new feature was developed after Apple analyzed data and noticed that repeatable motion happens with most falls.
This feature could absolutely save a life. You remember those "help I've fallen and I can't get up" ads? The LifeAlert bracelet is still considered state-of-the-art in terms of medical alert wearables, despite having been on the market since the early 90s. It's been upgraded since then, obviously, but no where near to Apple Watch Series 4 levels.
If someone has mobility issues and is alone when they fall, the time it takes to get them help could mean the difference between life and death. The possibilities for people such as the elderly or individuals with mobility-related disabilities are extraordinary. Heck, anyone who lives alone could be in real danger if they have a bad fall and no one is around to help. The new Apple Watch's fall detection technology could be a real game-changer in the long neglected realm of accessibility tech.
Apple Watch Series 4: What's Next?
It was very clear during the Apple Special Event on Wednesday that health is a huge aspect of the Apple Watch Series 4. It's not just about having a cool device on your wrist to show off; the device really does offer meaningful ways to detect and improve health issues.
That begs the question of how all-in Apple is really going to be when it comes to healthcare tech. CNBC's Christina Farr, who focuses in this intersection, suggested that Apple may wind up pushing into telemedicine. Particularly for users in rural areas who have health problems and no easy access to a doctor, being able to Facetime with a physician who also has their health records seems just around the corner.
This isn't a feature the Apple Watch Series 4 is touting right now, but the company could be moving in that direction. Considering that rural communities are home to about 20 percent of the population but only about 10 percent of physicians, according to a recent Stanford review of public health data, it would be a smart, bold move on Apple's part to revitalize healthcare in such a way.
Apple's annual special event is always very exciting for tech enthusiasts. But in the future, if the company keeps focusing on important, innovative health features like these, they could become even more exciting for healthcare advocates as well.